I want to draw special attention to some ideas that I beleive will permanently solve bad retreat pathing for COH3.
These two items and much more were talked about on
Elperns podcast
if you want to see some live discussion on this retreat path topic, check it out here.
https://www.twitch.tv/videos/1152274446?t=03h23m52s
If you support this, please say so in the comments. Relic needs to see support for good ideas in COH3.
Cheers.
1.
Implement a new feature that I call "Predictive Retreat"
This feature is explained in my last
COH3 Pre-Alpha article
but I will reiterate here.
"Retreating in Company of Heroes is an absolutely fundamental part of what the series is about. It is a great change to normal RTS games wherein conservation of units is all important. There is a problem.... When the retreat button is activated, there often isn't a clear idea as to which path the unit will take to return to base, which often unintentionally puts units in great danger. Generally speaking, players rely on the map designers built in "good retreat pathing" to see the job done. This is tricky to accomplish and many games would have a different outcome if a different retreat path was surmised by the player before they retreated. I propose to solve this issue with a new mechanism which combines the tactical pause dotted line graphics (or something similarly suitable) with an in-game graphically illustrated predictive retreat path. This mechanism would be called "Predictive Retreat".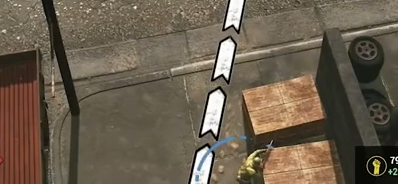 I'm talking about having players hold a button (default alt, ctrl or the like) while a squad, or group of squads, is selected. While this button is held down a path pops up and shows the player, in real time, where the unit will retreat if the retreat ability is activated. This would be an amazing piece of tech that will give players a ton of power over their units survivability and they would identify retreat issues ahead of time if they are smart enough to engage the "Predictive Retreat" feature. More depth, more control, better COH."
----------------------------------------------------------------------------------------------------
2.
Give mappers the ability to place a "waypoint retreat" object in the worldbuilder that only the mappers can see and are invisible to players on the map.
This object would be a retreat location that units retreat to first (if its closer than the base) and as soon as the unit hits that retreat point they continue retreating back to the main base. This will give mappers much more flexibility when designing maps that are wide. Currently maps are forced to be square or rectangular in the long direction, think rails and metal. There may be better ways to implement this "waypoint retreat" feature so think abstractly how to empower mappers to improve retreat pathing. There may be many ways to do this, this is the best ive come up with thus far. We want to give mappers as much flexibility to create the very best maps possible, this will aid in that effort.
Keep in mind units would only retreat to this "waypoint retreat" object if they are closer to it than they are the main base.
Below shows an undesirable retreat path (red) and a desirable retreat path (green) and the "waypoint retreat" objects placement (blue).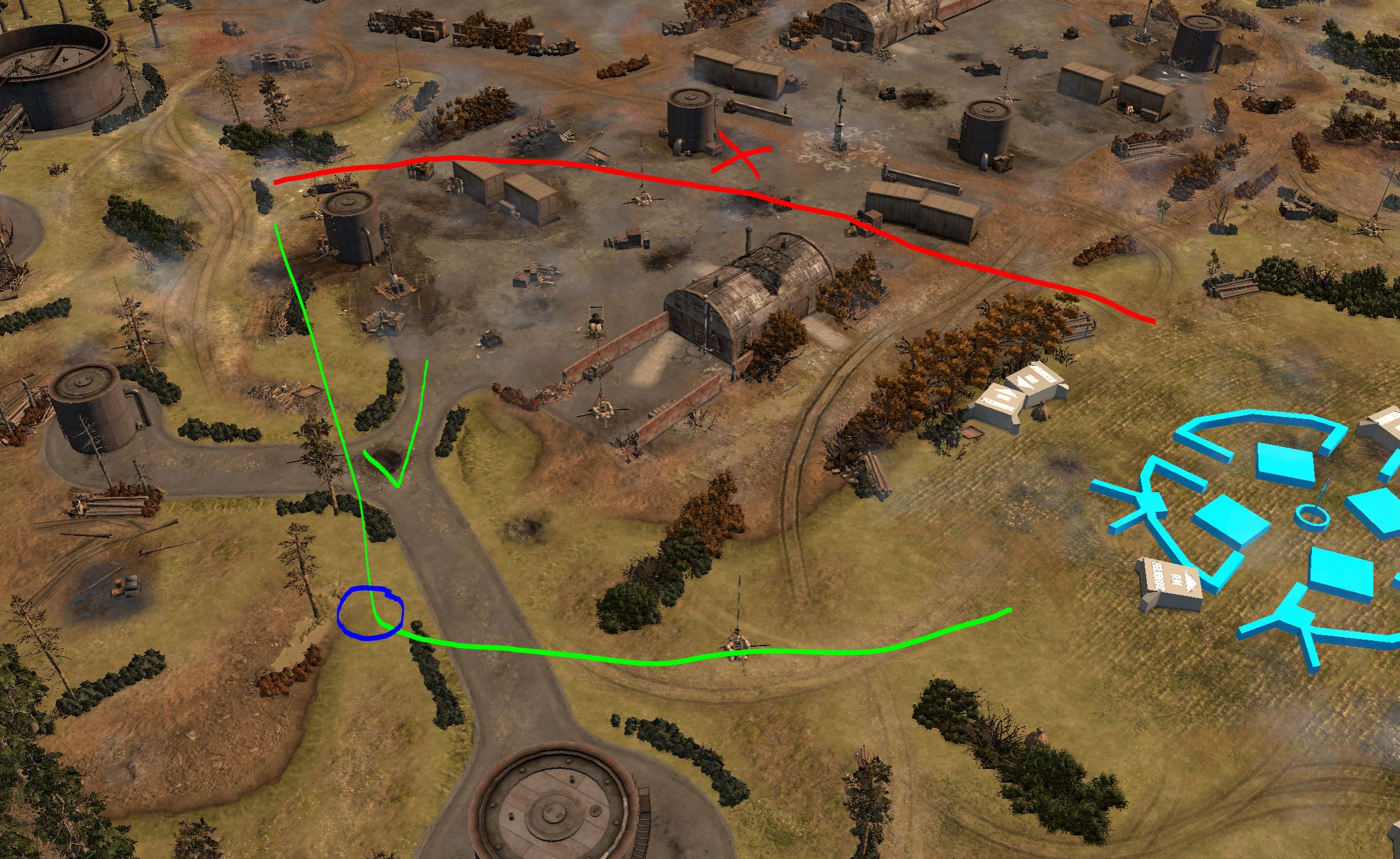 Please note: There may be issues with units that are near the waypoint that go TO the waypoint and then the base because they are technically closer to the waypoint retreat than the main base when not intended. This idea needs to be thought about more.
Maybe players have options for retreat paths when combining this with "Predictive retreat"? Maybe you hold down ALT or another key to see your retreat path then you scroll wheel to select the waypoint retreat path or the main base retreat path? Something more elegant than this??
This idea isnt perfect, but some version of this idea may be fleshed out more to put it in a place where some form of this idea functions in a hugely powerful way in the mappers hands.
Retreat paths are a foundational part of COH and its critical that they work as intended. Its possible Item 2 doesnt go anywhere because of its complexities, but Item 1 is a no brainer for COH3.
Cheers