Sega is revealing a new AAA title at Gamescom
Live announcements from Geoff Keighley, Canadian video game journalist and presenter: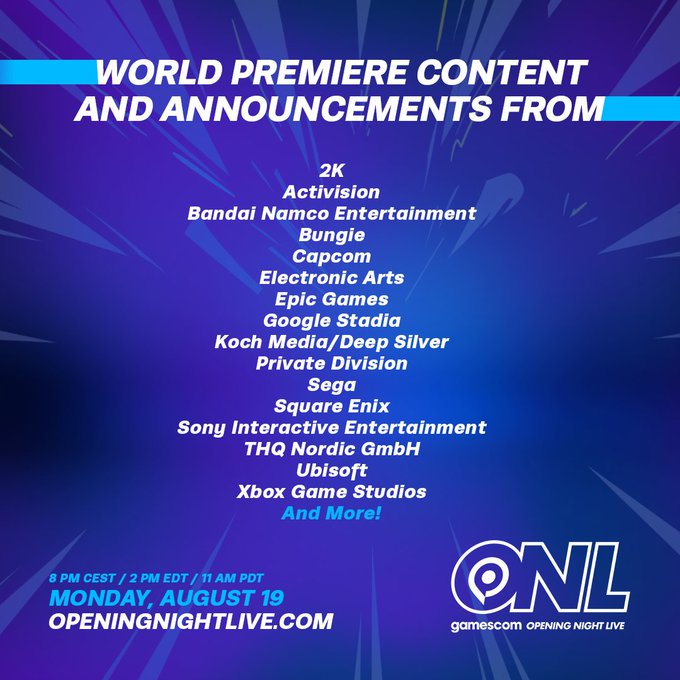 https://twitter.com/geoffkeighley/status/1158741623200600064
Geoff Keighley
@geoffkeighley
More than 15 game publishers will premiere new content and make announcements during
@gamescom Opening Night Live. An exciting show is coming together for Monday, August 19! Hope you get to tune in and watch the stream!
Sega is Revealing a New AAA Game at Gamescom:
https://www.dualshockers.com/sega-reveal-new-aaa-game-at-gamescom/:
This morning, Sega announced its upcoming plans for Gamescom which takes place later this month in Germany. While most of what the publisher will be bringing to the convention is to be expected, there was one teaser for an upcoming announcement that stood out.

Sega said via press release today that it will be announcing a new game later this month. It says that this is "an all-new AAA game that has yet to be revealed to the public." For those that attend Gamescom, Sega also confirmed that this new mystery title will be available at the company's booth alongside Catherine: Full Body, Two Point Hospital for consoles, and the SEGA Mega Drive Mini.
Gamescom Opening Conference With Numerous Surprises and Announcements:
https://www.gamepressure.com/newsroom/gamescom-opening-conference-with-numerous-surprises-and-announcem/zcf33
The upcoming gamescom fair will be full of surprises and announcements. There will be fifteen big publishers who will show their games during a special conference. Among them will be Sega, which is to present a completely new AAA title, as well as Sony with the next presentation of Death Stranding.

The upcoming gamescom fair, which will start on August 19 and will traditionally take place in the German city of Cologne, might just have a chance to surpass this year's E3. On the opening day of the event, its organizers intend to organize a special conference, broadcast live (starting at 11am PST), during which numerous surprises and announcements are awaiting the players. The event will be hosted by Geoff Keighley, a well-known presenter and professional journalist. Keighley has just published on Twitter a list of fifteen publishers/developers whose games and projects will be shown during the event. The companies are: 2K Games, Activision, Bandai Namco Entertainment, Bungie, Capcom, Electronic Arts, Epic Games, Google with Stadia, Koch Media / Deep Silver, Private Division, Sega, Square Enix, Sony, THQ Nordic, Ubisoft and Microsoft.
Sega is revealing a new AAA title at Gamescom, but what is it?:
https://www.trustedreviews.com/news/sega-revealing-new-aaa-title-gamescom-3928592
It's just a few weeks until Gamescom 2019, and as a result we're starting to get a glimpse at what we might see at the huge gaming event in Cologne.

Today, Sega announced that it had a new triple-A title to show at Gamescom, but they didn't hint at what we might expect from the title. In fact, the only thing we do know is that it won't be a new title from Horsham-based developers Creative Assembly, putting a pin in my desperate hope of an Alien: Isolation sequel.

Lead community manager Grace Carroll confirmed it wasn't a Creative Assembly game on Reddit which means — in real terms — that there's no new Total War game coming, but also that we won't be seeing the new game from the Alien: Isolation team, which is reportedly a hero shooter.

Chances are, we'll see Sega's new game shown off during the Geoff Keighley hosted Opening Night Live event going ahead at Gamescom. Looking at Sega's first party studios and engaging some heavy guesswork, i'd My gut says it's more likely to be a title from Relic Entertainment or Amplitude Studios. Relic are currently working on Age of Empires IV with Microsoft, but Amplitude Studios have just released Love Thyself.

Basically, we don't really know. Both Relic and Amplitude have been quiet in terms of output recently, and Sports Interactive keep themselves busy with yearly iterations of the Football Manager franchise.
Reddit:
Sega announces Gamescom 2019 lineup, including unannounced AAA title
https://www.reddit.com/r/pcgaming/comments/cmrchb/sega_announces_gamescom_2019_lineup_including/
https://gematsu.com/2019/08/sega-announces-gamescom-2019-lineup-including-unannounced-aaa-title
Most likely a new Relic or Amplitude game.
According to job listings/LinkedIn sources Relic has two development teams and plans for a third which could be CoH3?.
Amplitude has outsourced Endless Space 2 expansion to the
NGD team
https://www.games2gether.com/amplitude-studios/endless-space-2/blogs/697-thank-you-for-your-contributions
https://www.games2gether.com/amplitude-studios/endless-space-2/blogs/665-the-future-of-endless-space-2-a-new-faction-with-old-friends
What are Amplitude working on?
https://www.reddit.com/r/EndlessSpace/comments/cmouvg/endless_space_2_future_roadmap/
D-AlonsoSariego
They said something about an rts or turn-based strategy game that takes place on the endless universe in one of their streams
https://www.games2gether.com/amplitude-studios/games2gether/blogs/695
Join us for a cold one in Cologne!
August 22nd
GamesCom is right around the corner, so it's time for another Beer2Gether! Come meet the team and chat over drinks (alcoholic or not) and snacks!