Things are beginning to get interesting! After two weeks of sterling action, we now see the field of thirty-two players brutally halved. Through hellish warfare, uncompromising and fatal, sixteen contenders emerge.
To our fallen heroes, we salute you. Thank you for your sacrifice in making Grand Championship Series possible. You are gone but not forgotten, I believe the spirit of competition and the idea of a solider that battled until the very end can not be better summed up than GB Hooligan. His efforts against the veteran war machine Aimstrong were remarkable. To watch the full series (match of the tournament so far)
click here.
There were many other highlights of round one, many of which you would have seen on
Imperial Dane's Channel
, or possibly on
Romeo's channel
. Thank you both for helping us bring every single game of GCS to the viewing public. Or take a look at this playlist of all GCS content
A_E and Stormless
have cast.
Talking of highlights here's your chance to prove yourself as a video editing artist and shiner of spotlights - in the:
GCS highlight video competition.
The next four weeks will bring you four shows with two best of five matches each show.
Witch live every Sunday from:
11am EST/ 3pm GMT/ 4pm BST/ 6pm CEST
.
The below schedule includes the writing of and incredible stats collected and compiled by Siphon X. big thanks to him for all his work in analysing Grand Championship Series so far. For all large scale contributors to GCS there will be rewards to come. The stats summarize the the games played by the top 16 so far. Tech and commander choices are estimated from replay files, when available.
_________________________________________________________________

amis
VonIvan vs. Pappy O'Daniel
SE

Pappy O'Daniel
: Pappy had no huge ordeal in his first round victory against Jérémy winning 3:0. VonIvan his opponent may be a scary proposition for him to now face, however Pappy has nothing to lose and a lot to prove, which may make him a surprisingly dangerous competitor. Especially considering when VonIvan let off the 'gas' pedal for one moment in round one and Burmie took a surprise game off him, so anything is possible.
VonIvan
: VonIvan is looking terrifying, DevM and HelpingHans are both struggling to take games off his Soviet play (more to come on that from Hector in further down the article). However his Axis is looking a little more vulnerable, and you need both factions to be strong to win in GCS. It'll be an exciting series regardless, it always is when VonIvan is challenged and sufficiently motivated, as he appears to be, here in GCS.

amis
Tobis vs. Theodosios
DE

Tobis
: Tobis managed to surprisingly defeat AndresTC in the first round in 3:1 games. He is the lowest seed to proceed to the next round where he will meet Theodosios. He is therefore the
DANGERMAN
of the tournament so far and is capable of causing shock upsets. He is up against Theodosios someone that has nearly suffered that particular indignity already, so Tobis may be out for blood.
Theodosios
: Theodosios, seeded 5th, had serious problems against his first round opponent Refero, which he ultimately managed to overcome in the ace game. Given Tobis' habit of throwing out a much higher seeded player this might very well be set to be another thriller! Expect Theodosios to be doing everything in his power to prove his high seeding and Tobis throwing everything he has at him.
_________________________________________________________________
DK
Fredbrik vs. Talisman
FI

Fredbrik
: The UKF specialist already showed during his placement matches that he is also well-versed as the Axis. Likewise he had no problems winning against Earth in the first round. He is a solid player that is getting into his swing as a tournament competitor, expect him to be looking to hit the next level as the tourney progresses.
Talisman
: Talisman disposed rachmaninoff with a 3:0 round and will now face Fredbrik, despite also competiting in a competitive Overwatch tournament that very same day. Talisman is therefore no stranger to tournament play, as proven with his famous shock victory over HelpinHans in ESL and multiple runner up titles. Surely Talisman is a player that has the potential to take GCS by the horns and rise to the very top? We will see very shortly.
PT
DevM vs. VonAsten
NL

DevM
: The number one seed DevM started the tournament with a clean 3:0 victory against the 'possibly not quite as Incredible as he might have needed to be' FaHu. He meets a very motivated VonAsten in the next round. Will he have a shock struggle like his clanmate Aimstrong, or will it be further plain sailing as the wunderkind marches on.
VonAsten
: VonAsten has a point to prove, he has a chip on his shoulder, and it isn't a bad thing. It means he has fire inside him that makes him a fierce competitor and a possible dark horse. Having gone through the placement matches, where he played 1:1 vs. Spanky. The two met again in the first round of the main event, but this time VonAsten won all three games in a vicious bout. He has reportedly been scrimming with Jove and Noggano, which may mean he's battle ready for the match of his life.
_________________________________________________________________
DE
Luvnest vs. Lt. Baumy
DE

Luvnest
: The German juggernaut defeated Finndeed in brutal fashion, despite the plucky Brit's best efforts, Liebesnest could not allow any Lebensraum for his opponent. He will have to deal with fellow German Lt.Baumy in the next round, let's see if Luvnest's dominating authority will be challenged.
Lt.Baumy
:...who had no big problems winning against Tomakaze in the first round. He may be looking to spring a surprise ambush on Luvnest who has shown some weaknesses in early rounds of big tournaments in the past. All eyes will be on both Germans in this fierce matchup.
DK
Aimstrong vs. Jesulin
ES

Insane Aimstrong
: After SageOfTheSix dropped out of the competition, Aimstrong had to defeat |GB| The H[oo]ligan486, a substitute player. Easy, right? Well, it didn't quite turn out that way as we've mentioned before, as heroic Hooligan managed to win two games, one with a great strategic ploy (defensive OKW) the other in exploiting micro errors of his far more tournament-experienced opponent. He forced Aimstrong into a fifth game. Ultimately, the veteran Danish warrior prevailed in a series that could have gone either way.
Jesulin
: The most successful tournament player in CoH2's history, the spanish destroyer looked in fine form in the first round. The Spaniard quickly dealt with Havoc in a clean 3:0 series. In the next round he will have to take on someone that may pose quite a bit more of a threat in Aimstrong. With GCS having lengthy breaks between matches perhaps Aimstrong will now be rested, wiser, and more of a challenge for 'big Jezza'. One thing seems certain, it will be one of hell of a spectacle.
_________________________________________________________________
GB
HelpingHans vs. Zarok
NL

HelpingHans
: The winner of the last ESL EU monthly cup, started with a dazzling 3:0 against ku2521 disposing of his Korean opponent in record time. The final match took only seven minutes! In the next round he will face Zarok who will surely pose a bigger threat to the rampaging Brit. HelpingHans may be setting his sights on bigger things, but Zarok will be single minded in his intent to cause an upset. Let's see what happens.
Zarok
: The recovering Maxim 'enthusiast' went through a messy 3:2 series against Steffenbk1 without even picking Soviets once! The flying Dutchman was barely allowed to get off the ground in a brutal affair, that although has left him battle scarred, it won't have dampened his irrepressible spirit. Ever the strategist let's see what he has up his sleeve against a taller task, in the mighty Hans.
KR
KoreanArmy vs. BartonPL

PL

SoLKoreanArmy
: the tournament legend KoreanArmy played his first round against Jae For Jett, which he managed to defeat 3:1 much to the delight of his many fans. In the next round he will have to overcome the dastardly Polish mastermind BartonPL. Korean Army is a shining paragon of virtue and competitive spirit, having been equivocal to DevM in CoH1 and CoH2's early days, let's see if he can hit his former heights in GCS.
BartonPL
: Barton defeated TwistedTootsy in three games where he did his best to earn his stripes, Barton may be a troll to many, but when there's money on the table, he is capable of transforming himself into a tourney winning machine. It seems destiny that Barton meets HelpingHans in yet another tournament, but there is a very large Korean Army standing in his way.
The recent patches saw serious changes to the a lot of units, so the meta is expected to change compared with what we observed during the WPC series last fall. While a more extensive analysis will be provided after the conclusion of this event, we can look at first
statistics from the main round
.
Like in previous events, Soviets are the most picked allied faction being used in 25 matches, followed by USF with 19. However, while UKF basically did not happen during the WPC series, it already accrued respectable 13 games so far.
Ostheer, however, fell behind OKW, being picked in only 23 games as opposed to OKW's 34.
There were serious shifts in terms of commanders as well.
Ostheer:
One of the formerly most picked doctrines, Mobile Defense, so far does not seem to be used once. This is likely due to the reduced lethality of the light vehicles after the WBP patch. Mechanized Assault, the other most popular doctrine now reigns supreme, even after the changes to the Stug-E. The second place so far goes to Elite Troops, followed by Lightning War, Blitzkrieg, Osttruppen and German Mechanized.
Soviets:
The most popular doctrines for Soviets now are everything that contains a Dshka (see the section by Hector below): Nine times Lend Lease was chosen, followed by Defensive Tactics (four games). The former go-to commander, Guard Motor Coordination Tactics, so far was seen in only three games.
OKW:
Special Operations doctrine was picked almost twice as often (nine) as the former champion, Scavange (five), even though the Command Panther was somewhat nerfed in the GCS patch. However, Luftwaffe Ground Forces and Fortifications have seen some resurgence, being chosen in four games each.
USF:
The USF commander choices so far do not differ much from what we saw during WPC, with Armor and Heavy Cavalry Company being picked most commonly.
UKF:
The currently most used commander for UKF - and that by a margin - is the Special Weapon Regiment being picked in eight games, while the formerly most popular Mobile Assault Regiment so far saw action in two games.
by our Senior Strategist Hector
It was obvious that soviet meta will shift after all those GCS patch changes. But I do not think many of us thought it will shift this way. The creator of this meta is probably VonIvan. We also saw many other top players utilizing this strategy, for example Noggano or VonAsten with some variations.
This strategy is particularly used in the Soviet-OKW matchup. I don´t think it has much of a use against the Ostheer. The reason is that the Ostheer has a slower start, a weaker late game and of course the early faust.
The point of this strategy is straightforward. Gain as much ground as possible early on so you either win the game before OKW starts fielding the Wunderwaffen or at least gain enough advantage for the late game, so you can fight the OKW "on equal terms". It is most commonly used in conjunction with the Lend-Lease commander.
Reveal guide section: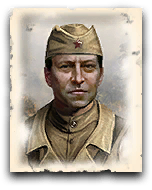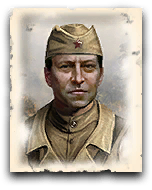 Now you must get a T70 to both gain more ground, win infantry fights and possible keep a potential Luchs at bay. As the game progress, you should get at least one Su76 for anti-tank duty. Of course get medics, maybe another Dshka or penals and wait for Shermans. T4 is probably not worthwhile building, because it does not offer much that Shermans and Su76 cannot do.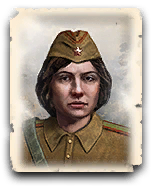 In the late game spam Shermans, replace any loses, plant as many mines as possible and add some Su76s to your roster, so you can fight even heavier axis armor. Play conservatively now, Shermans are beasts once vetted. Wait for enemy mistake and then flank his big tank to end the game. Try to hold at least two VPs which should not be too hard with two Dshkas, penals and Shermans.
Last words
#ADAPT. The key of this strategy is always the same – multiple engineers into clown car, into t70 with Lend lease as doctrine and penals as main line infantry. Other things really depend on the enemy army composition and how well you fought your early game.
Videos