We, the Cohmmunity Germany, suffer from the rough release of CoH3 just like everyone else.
But that doesn't stop us from continuing where we left off and that with familiar tools and with you!
I have the honor to introduce you to the next upcoming CoH2 tournament:
The Cohmmunity Germany CoH2 Summer Clash Mashup!
This is going to be something big, up to 64 participants will compete in random mixed teams of 4 in knockout rounds.
3 days of action with live casts up to the grand finale on selected fixed maps in bo3 and fixed positions.
Team combinations will be drawn live on
The_Red_Kaiser's Twitch channel
on July 23rd at 20:00 CEST (18:00 UTC).
A prize pool of 250 Euro and some very cool goodies is waiting for the best!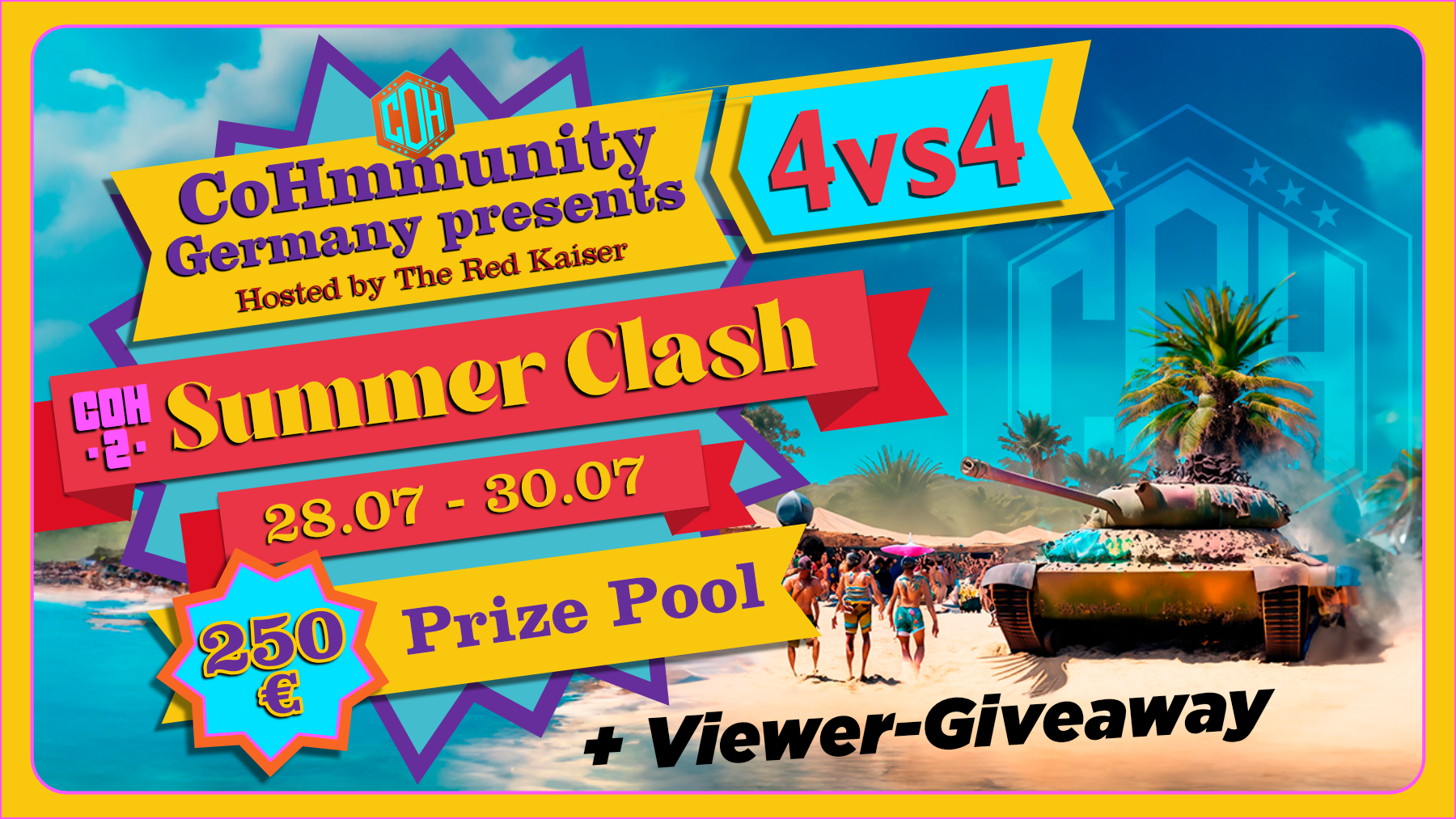 Dates and times
Start of first rounds (Round of 16) on 28 July at 20:00 (CEST);

Quarterfinals Starts on 29 July at 17:00 (CEST);

Semifinals starts on 29 July at 21:00 (CEST);

Match for 3rd place starts on 30 July at 18:00;

Final starts on 30 July at 20:00 (CEST).

Conditions of Participation
If you would like to participate in this tournament, please write to Falcon (Discord: falc2k9) a PM with a request to participate including your Steam ID and CoH stats link.
We will check your profile/stats and we will let you know whether or not you qualify.
Deadline for registration is 22 July at 21:00 (CEST).
For participation and during the matches, presence on
our Discord
is mandatory! You will get a match language channel.
For uncomplicated communication either German or English should be spoken with the organizer.
Everyone is welcome!
Rules
Axis vs. Allies, no mirror matches;

In the tournament tree, the upper team starts with Axis;

No Smurf account (we will find out);

No exploits (matches will be cast or viewed);

Be on time for your match (there are several people waiting for you!);

Fair play, behave nice to others (it's a game);

Stick to your registration (be sure you can participate);

Save your replay and send it to the organizer.

If you have any questions or problems, you can always contact the organizer directly.
Have fun!