THE FOG OF WAR
ROSBONES UNOFFICIAL PICTURE GUIDE OF SIGHT BLOCKING ENTITIES
One of the coolest features implemented in COH2 is Truesight. What is Truesight? It is the realistic 3D determination if objects can see each other in the game. Objects that block vision are represented in the game/worldbuilder by a rectangular box. I thought it might be a good idea to show examples of some of these sight blocking entities as they appear in the worlbuilder. The intent of this post is to help players be able to identify sight blocking entites on the fly in game.
LONG WINDED ROSBONE STYLE SPECULATION OF SIGHT
COH2 seems to use a two step sight checking process. I say seems because I am speculating how it is done. The first check is a 2D top down check. A grid is calculated for the ground terrain that looks similar to an excel sheet. Each cell of the grid could be approximately 1 meter x 1 meter. This grid is how the FOG OF WAR shadows are most likely drawn. It is a rough estimate if objects can see each other and is very fast to check in game. The grid cells are only calculated in a circle for the distance the game unit can see. This has to be calculated for EVERY UNIT on the field. So do not get all down on Relic for not optimizing the game. There is a lot of stuff going on. COH2 calculates this grid many times per second to give a realtime feel to the sight. Load COH1 and you will see sight is only calculated once per second or so to let slower PCs run the game smoothly.
The second step is to actually calculate in 3D if objects can see each other. This can be a very time consuming chore and slows down the game considerably. Points in space are ray traced to each other in 3D and checked to see if the ray intersects a cube wall. Thus, the first faster rough check is most likely used first, thereby, allowing Relic to skip the much slower check in most cases.
LETS BEGIN
Lets start with an in game example of sight blocking using the map Port Of Hamburg.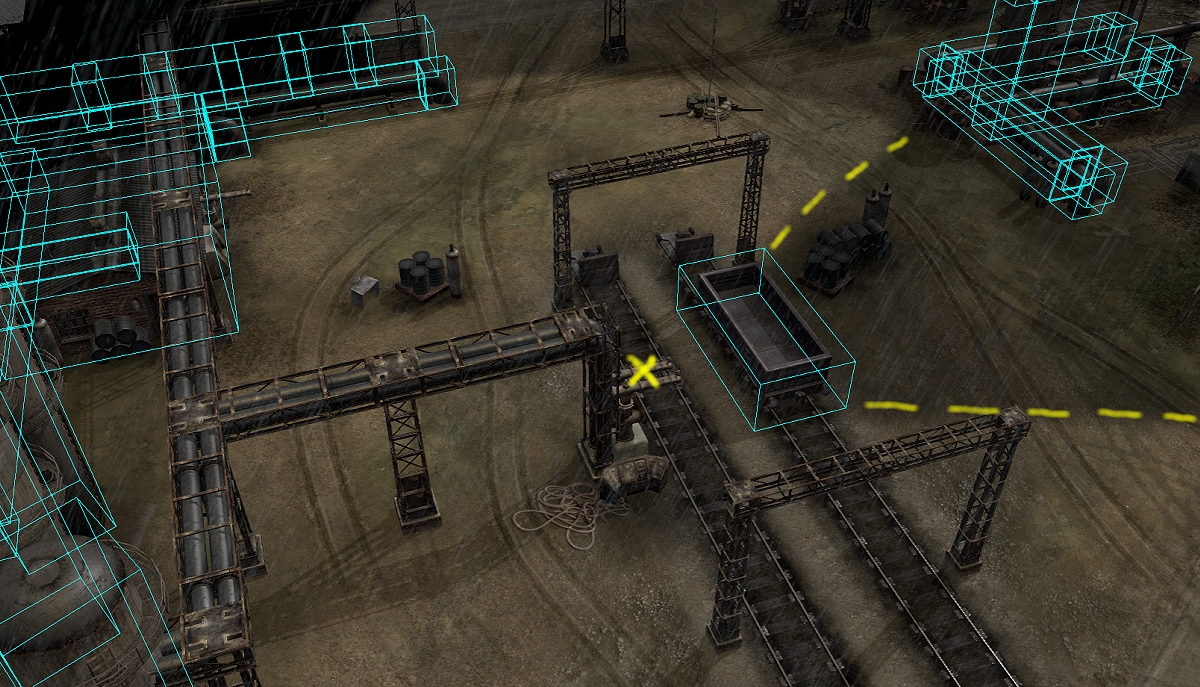 IMAGE #1
In image #1, the yellow X would represent some unit in the game. Unit being a soldier, tank, etc. In this case the large railroad car is a blocking entity and thus has a cyan cube around it in the worldbuilder. The yellow dashed lines indicate the threshold of vision. The game indicates your vision line by placing shadows in areas you cannot see. We call the shadows by a very dramatic moniker, The Fog Of War . Notice how dark the ground is in the areas you cannot see into. This particular location is a spot I see many new players setting up MGs. And of course they cannot see anything and eventually get swarmed and killed.
Another example from Port Of Hamburg
IMAGE #2
Most large hedge objects in the game block sight. One in particular does not. Notice the large round hedge (RED DASHED LINES) has no sight blocking cube around it.
Here is a quick look at how a map such as Lienne Forrest may look to a player in game.
IMAGE #3
That is quite the jumbled mess of foliage, haystacks, walls, and buldings. I wonder where I can see and where I cant?
And the same shot with sight block cubes turned on in the Worldbuilder.
IMAGE #4
Ahhh thats better. Now it all makes sense.
EXAMPLES OF ENTITIES AND THEIR CUBES
IMAGE #5 - HEDGEROWS
All of these large hedges block sight. Cubes are not shown for clarity. Know them well for they will be surrounded with other non sight blocking entities. See IMAGE 6 to see an example of the hedgrow cubes.
IMAGE #6 - BUSHES WITH HEDGEROW REFERENCES
Notice that none of the smaller bushes and hedges block sight. They also usually provide yellow cover and are your friends.
IMAGE #7 - LARGE ROCKS/BOULDERS
Notice these objects do not block sight. There is an object in the game that is invisible to the player but blocks sight in game. These sight block objects are usually placed around boulders to create a custom sight blocking pattern. So it is 50/50 if a boulder will block sight or not in game.
IMAGE #8 - VERY LARGE TREES
If a tree has a large trunk, it is most likely a sight blocker. This may not always be the case though. I hear a Jeff Foxworthy joke here somewhere. "You may be a sight blocker if...you gotta whole lotta junk in yer trunk"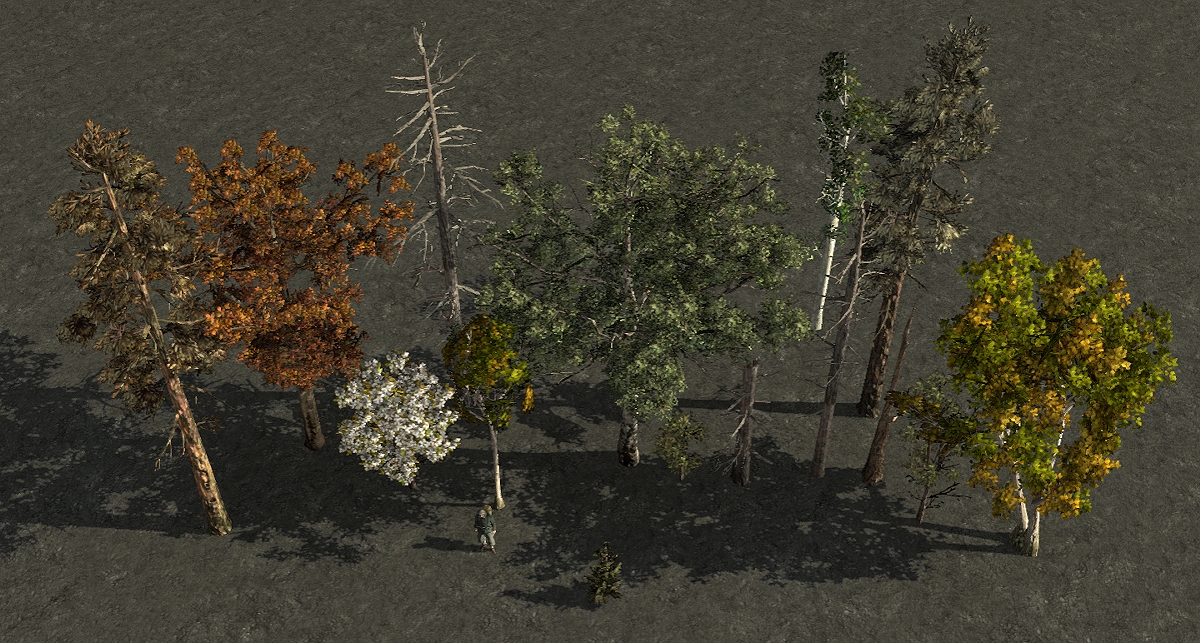 IMAGE #9 - SMALL/MEDIUM TREES
These trees do not block sight.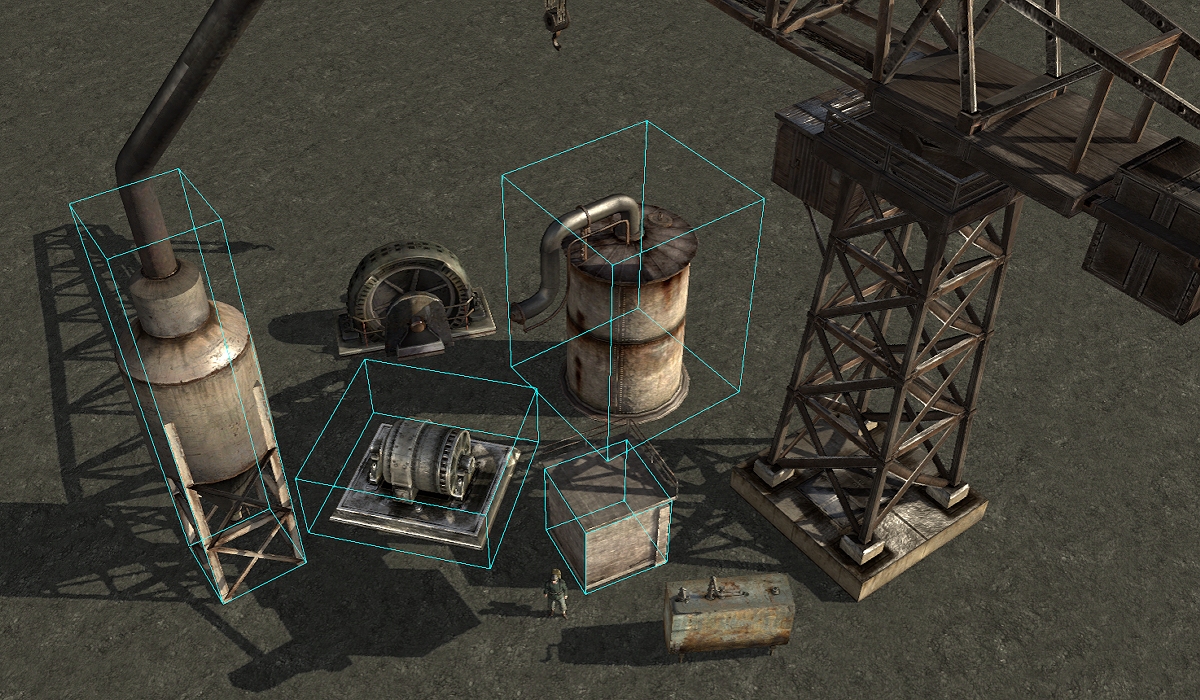 IMAGE #10 - INDUSTRIAL OBJECTS
IMAGE #11 - INDUSTRIAL PIPING
IMAGE #12 - INDUSTRIAL OBJECTS AGAIN
IMAGE #13 - RAILWAY OBJECTS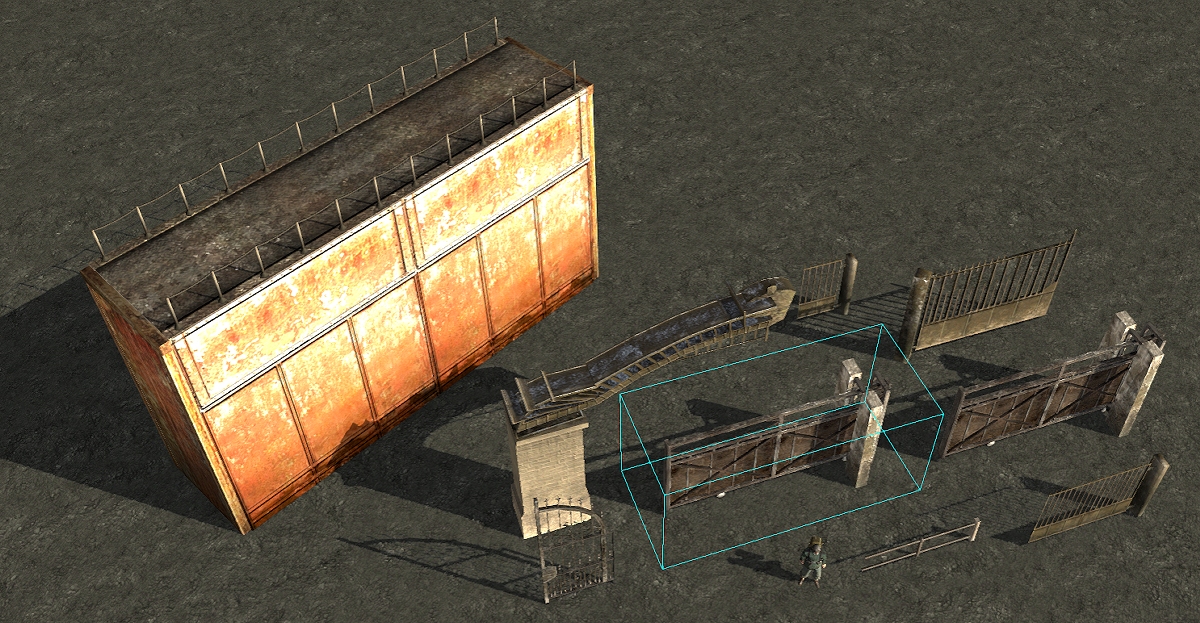 IMAGE #14 - GATES. OH THAT SNEAKY RELIC.
IMAGE #15 - FENCES
Notice that tall fences block sight. This holds true for stone walls as well. Short fences/walls do not block sight and usually give cover bonuses.
IMAGE #16 - BOATS N HO'S
IMAGE #17 - STATUE STUFFS
IMAGE #18 - BUILDING WALLS AND RUBBLE
It is important to note that a few small brick and metal pile objects block sight when you are far away from them. But do not block sight when you are close to them. But that is not confusing at all so don't worry about it.
IMAGE #19 - CEMETARY OBJECTS
Perhaps down the road this can become an official guide and more pictures and examples can be added.