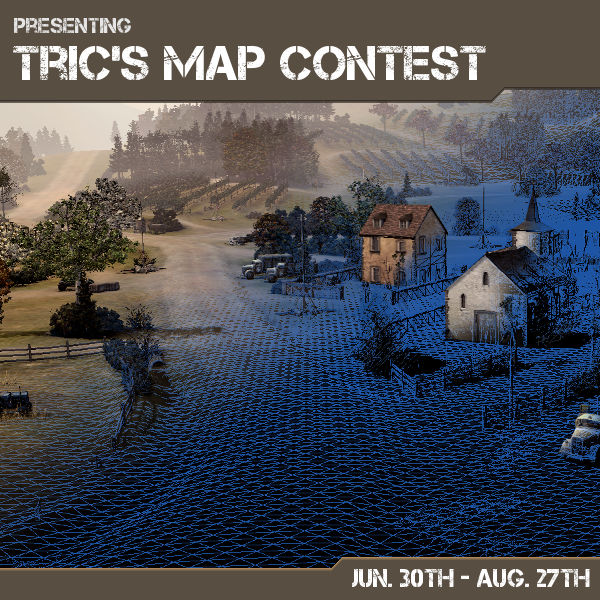 Tric's 2016 Map Making Contest
Ever thought about making your own maps and having them be considered by Relic for inclusion in the 1v1 automatch rotation? Well now is your chance to try it out and give it a go! With the community here, we will be seeking to create unique and inspired maps which will bring some love to CoH2.
In the first half of the two part contest, we will be giving contestants a 2 month long period of sharing, feedback and testing. Each person is allowed to submit 1 map for each visual category (Urban, Rural, and Industrial). The maps will be judged based on the following
guidelines
. Please note that these are merely guidelines, so creativity and non-standard maps will still be viewed and have feedback given accordingly.
Wikipedia
for time zone conversion
Submission period
June 30th – August 27th 2016 @ midnight EST
Registration details
Post all of the following information when you register your map(s) in the
2016 Map Making tourney sub-section
:
-Your Map Name

-The link to your maps workshop Page

-The link to your maps .sga file (uploaded to a website such as speedyshare or mediafire)

-Visual Category (Urban, Rural, Industrial)

-If you are comfortable with your map being play tested and shown on stream (this is purely at my discretion, I just don't want to make anyone uncomfortable.)

Mapmaker Winner Announcements
9/18 is when the winners of each category will be announced.
Due to unseen events, we will have to be moving back the announcement of the winners to the 24th, thank you for understanding.
Part 2: 1v1 tourney based on the new maps
Signups for the 1v1 portion will be open on
9/18
TBD, with 1 week to enter the competition and compete for the prize pool of 300 USD. Further information will be posted soon.
Your map will be submitted to Relic for consideration to be integrated into automatch rotation,
but we cannot guarantee that they will be added
. Relic will be the final arbiter on this aspect.
The Grand Prize Winner of the map making competition will win a special hardware prize donated by Relic Entertainment

1st place map for each visual category will each receive 50k supply, donated by Relic Entertainment

Your map will be featured in the 2nd part of the contest: the 1v1 tournament which will have its own set of 1v1 prizes, as follows:-


1st Place = 50k Supply and 60% of the prize pool


2nd Place = 25k Supply and 25% of the prize pool


3rd Place = 10k Supply and 15% of the prize pool

Details will be provided later, but is penciled in for September/October 2016
After the 1v1 tourney is over and the winner is decided, the players who participated in the tourney will vote on their favorite map and give us the Map Maker winner for the grand prize!
You can help contribute to the prize pool via donations to
Tric's Twitch TV stream
as well. Just make sure that you put a memo in the donation that it is to be used for the prize pool. There will also be special streams which will be run entirely to raise money for the prize pool.
If there are any concerns, questions or something is unclear, please let
Tric
or one of the other organizers know. We will assist you the best we can.Any answers or solutions we devise will be final.
If you have any tips or feedback, feel free to contact
Tric
as well.