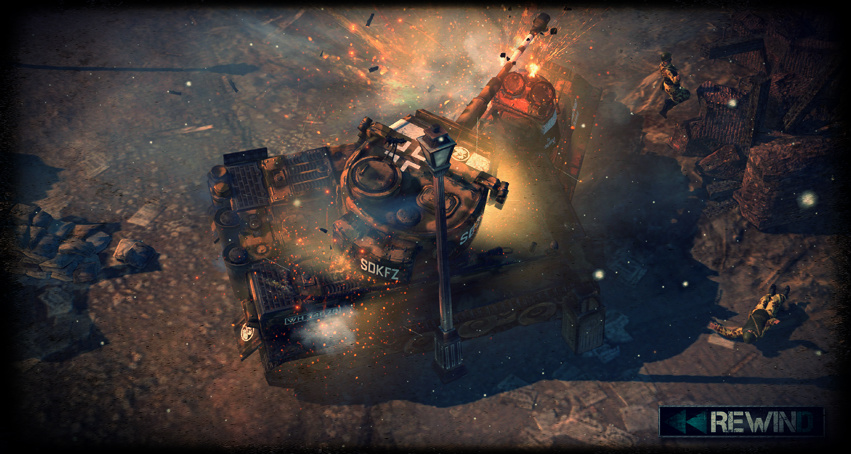 Who's behind all these tournaments and streams?
What about the organization of the tournaments itself?
Who creates these magnificent videos or other artwork?

Find out in this little presentation!

Little bit of History
Rewind
is a clan that existed way before Company of Heroes 2. It was a professional clan in
Enemy Territory
, the free-to-play multiplayer of the more popular game
Wolfenstein
, with players playing under the famous tag "
[<<]
".
I've managed that clan and helped bringing it to the top in both 3v3 and 6v6."Rewind" lays close to my heart, and after the game died (and so did the clan), it was time to give it a new life in another game.
After discovering
Company of Heroes 2
, I immediately saw the eSport potential. Not in the current state, but the potential is clearly there. I organized plenty of tournaments, cups and leagues in Enemy Territory, so I know I could do this. And so it began. Now I can proudly say, Rewind Events has proven himself worthy, as organizer of competitive events in Company of Heroes 2, with tournament and cupnames as
The Underdog Tournament [1v1] [2v2]
,
Rewind Masters
,
SuperCup
,
The Summer Cup
and the biggest of them all - the
NationsCup
.
Stay put boys and girls, we've just started - more is coming SOON


Future?
We're working on building out our Twitch channel, starting 5/12 with HD streaming (1920 x 1080).
Competitive Map making - 100% Balanced maps NOT favoring factions / favoring a side.
Future events with bigger prizes.

Some important links

Shoutouts
AmiPolizeiFunk - For giving me the opportunity to run these events on .org

VonKluge - For helping me with prizes for the first Underdog Tournament and for being a cool belgian

Napalm - President of the Angry Bears and just in general a really good guy

Somenbjorn - For those countless hours of COH2 and for being a good pall in general

Siberian - For supporting me from day 1 and hopping in the streams

Ashman - My former streaming pal

Jesulin - For helping me with rules, information about balance or maps

FichtenMoped - For getting my newspost up so quickly and for helping me with editing (Ohme you too)

All the Bears

All my Rewind Team members, including Otto Gans and Spitfire (beating Barton), you know I absolutely love the work you are putting in this game and in Rewind

And everyone I can't think of right now. Thanks a lot!