Grand Championship Series
was the first of its type - it was the first tournament to attempt to make Company of Heroes into a living breathing e-sports spectacle.
For the most part it was a huge success, something for this community to be proud of and to be looked back on fondly. On the other hand there were challenges and lessons learnt.
What is for certain is it made the community feel alive and passionate and gave the players the burning desire to compete at their highest level and achieve their full potential.
(Author note: sorry it's been so long since the tournament finished 7 months ago - but it's always fun to look back.)
The best way to reacquaint yourselves with the tournament as a whole is to have a quick browse of
this playlist.
It tells an epic tale from humble beginnings with a Kickstarter expecting £1,400 and a small internet tournament, to a dramatic finale with this awesome picture forever etched into our minds: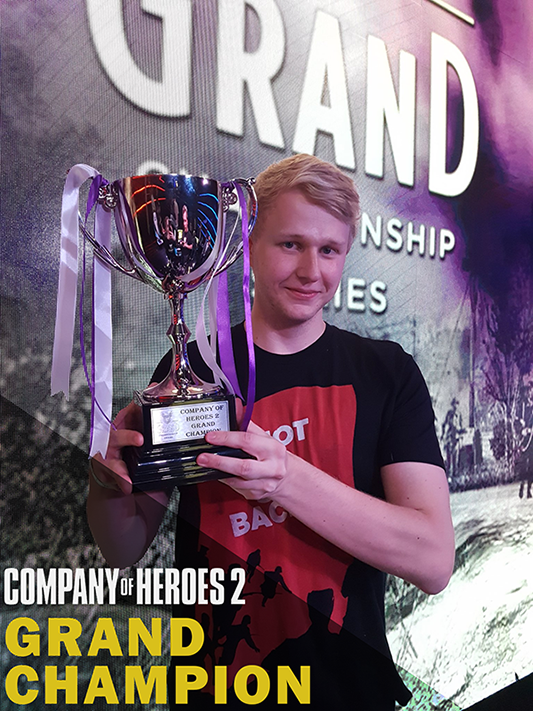 __________________________________
Firstly let us talk to six of the most notable players and catch up with them to discuss their thoughts about the events.
DE

Luvnest (1st place)
PT

DevM (2nd Place)

amis

VonIvan (3rd Place)

brits

HelpingHans (4th place)
NL

Hooligan486 (best newcomer)
DK

Aimstrong (his opponent)
__________________________________
Again immensely proud of everything we accomplished, forever thankful for the funds and trust placed into the project. However if ever we were to approach something so big in the future in my opinion these are the main areas we could improve upon:
1)
Secure a venue and prepare far in advance to guarantee production and player equipment quality. Miscommunication with venue holders affected live event.
2)
Make tournament rules more specific and expansive, to protect against situations such as bug-splats.
3)
Have more referees to ensure impartiality and to separate casters from authority.
4)
Save money by planning far in advance and networking with community.
5)
Have a larger and more involved team to spread work load.
__________________________________
I'd like to present the event's financial budget of how the money was spent to show transparency. This was always available on request to anyone that asked but after GCS finished I was burnt out and not in the mood to write articles such as this one.
In short every single penny was spent on the tournament in one way or another.
Here is a condensed version of the budget, but for the full version with notes this
can be seen here
.
All figures in £.
REVENUE
Total funds from Kickstarter: 5,478 (original - fees)

Money from Relic/ SEGA: 1,000

Money from paypal donations after kickstarter: 447

Total funds: 6,924
EXPENSES
Cash Prizepool: 2,950 (42%)

Live event costs: 1,340 (19%)

Player travel and accommodation: 1,085 (16%)

Casters PC upgrades: 800 (12%)

Benefactor/ Community rewards: 534 (8%)

Stream Expenses: (Battleplanner and video assets) 260 (4%)

Total expenses: 6,968
BUDGET REMAINING
Original overspend (loss): -44

ESL Rebate after request: 200

Carried forward to future projects: 156
Again I'd like to reiterate my thanks for funding GCS. If ever in the future a similar situation arised - ways would be found to be more efficient due to better experience and thrift.
__________________________________