When Quinn Duffy told us to put our cameras away, before he led us through Relic Entertainment studios in Vancouver, we hoped to see some great new stuff being developed for
Company of Heroes 2
. About half way through the tour, we came to a room that was alive with commotion. Out of the many desks in the room, each with a developer diligently working away, four of them were literally popping with energy and the frenetic clicking of mouse and keyboard. Four of the devs were battling like mad dogs. But what map is that? Wait a second, I recognize that minimap. Is it really...
Langres on COH2
? Awe hell yeah!
Tomorrow's patch will introduce "Langreskaya" to
Company of Heroes 2
, in both Summer and Winter forms. This is a new version of the competition map from COH1, originally created by community map-maker Micheal "
m1cHi
" Scharhag, that we have seen in countless tournaments and
Sunday Night Fights
bouts. The original map was a member of the "Big 3" (Semois, Angoville, Langres), known affectionately as simply "SemAngLang." The map has been revamped by the Relic team to fit the Eastern Front. It's got new houses, huge hay barrels, and gorgeous terrain textures. We are thrilled to welcome this classic map back into the pool.
"Langreskaya" is playable in both 1v1 and 2v2 formats in custom games, but will
only
be introduced in automatch for 1v1. A great decision by Relic! We look forward to some fantastic battles, which will surely be featured on upcoming Livestreams, Vods, and in our Replays section. Good luck achieving the
Langrekayas pin!
It ain't so easy with M3s and Scout Cars running around!
Look for a for-fun 1v1 Langreskaya-only tournament announcement on the portal tomorrow.
And keep your weekend open, August 3rd and 4th. The rest of the patch notes, including highly requested adjustments to Strafes, MGs, Hit the Dirt, and the Opel Blitz Truck, can be found after the pics.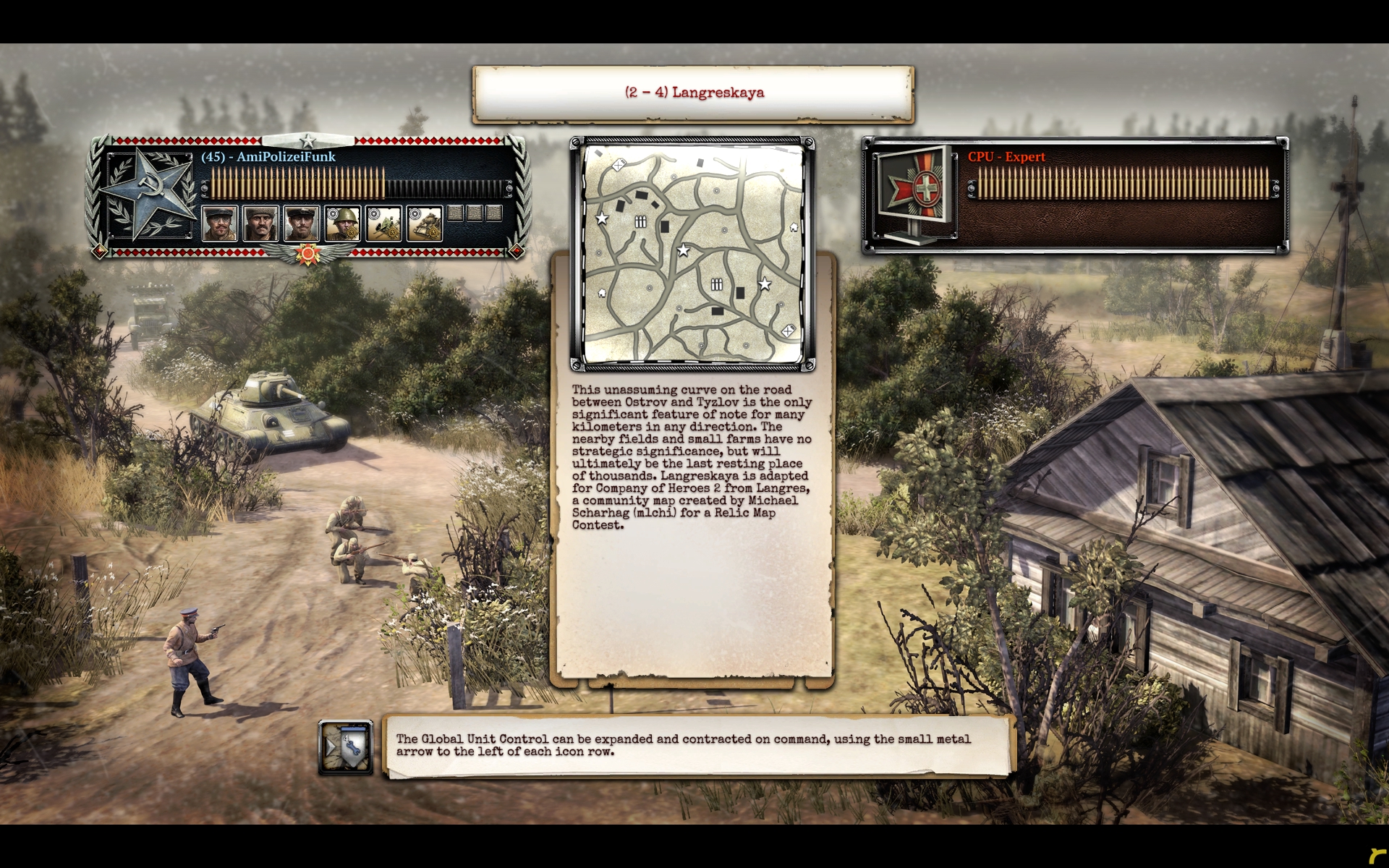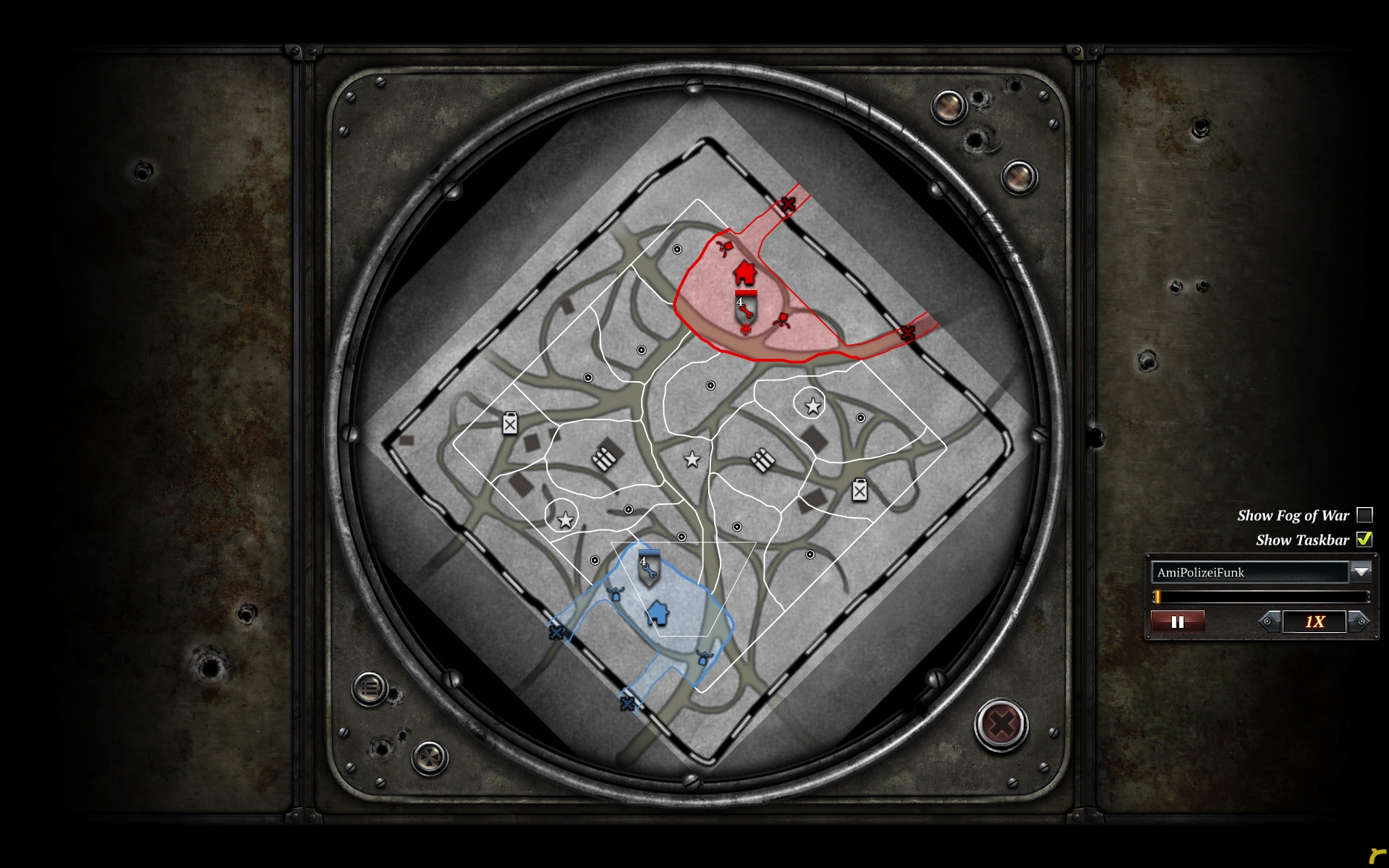 Langreskaya Summer/Winter splitscreen morph pics by OnkelSam:
3.0.0.9945 Patch Notes
(thx
Noun
!):
Updates July 30th, 2013



General

Fixed 1 frame delay between user input and unit movement

Updates to vehicle pathing

Langreskaya Spring and Winter maps added (1v1 in automatch and 1v1 and 2v2 in custom game)





Balance


Commander Ability Changes

The following abilities had their command point (CP) cost reduced to increase commander appeal. In contrast to the majority of Soviet Commanders a number of German doctrines did not have abilities available at 1 CP.


Panzer Tactician: Command point cost from 2 to 1

Mortar-Half-track: Command point cost from 2 to 1

Artillery Field Officer: Command point cost from 2 to 1

Riegel 43 AT Mine: Command point cost from 2 to 1

Fear Propaganda Artillery: Command point cost from 5 to 3



Rapid Conscription

The following changes were made to improve the usability of Rapid Conscription and Relief Infantry. Overall, it was very difficult to recover your cost on investment to both abilities due to their relatively low duration time. The goal was to increase the rate at which players could recover their cost and provide a possibility to earn back more than the initial resource investment.


Maximum replaced squads from 6 to 2

Duration from 30s to 120s

Recharge time from 90s to 180s

Cost from 200 MU to 160 MU

Ability now replaces lost squads with Conscripts rather than Penal Battalions

Updated tooltip to better reflect ability functionality



Relief Infantry


Maximum replaced squads from 6 to 3

Duration from 60s to 120s

Recharge time from 90s to 180s

Updated tooltip to better reflect ability functionality



Hit the Dirt

Previously, Hit the Dirt had the capacity to have its modifier stack with cover. This led to extremely durable units at very little cost to the user. It also impacted many of our combat systems, leading to inconsistent or undesirable behavior such as snipers missing the infantry.


Hit the dirt now provides light cover rather than a 0.5 received accuracy modifier.



JU-87D Strafing Run

The JU-87D Strafing Run now functions as a suppression ability. The loiter behavior was modified to improve the visuals of the off-map and make it more susceptible to anti-air weapons.


Attacks per aircraft from 5 to 3

Delay between attacks from 3s to 18s

Duration time from 48s to 75s

Target lead in from 50 to 20

Target lead out from 60 to 20

Target attack distance from 150 to 225

Target attack time from 2.125 to 4.25

Modified UI barrage radius to match the loiter radius of the JU-87D

Damage from 8 to 2.5

Rate of fire from 32 to 16

Suppression from 0.12 to 0.25

Max range from 175 to 225



Opel Blitz Cargo Truck

Previously, the cargo truck was multiplying a sectors value by a factor of 2. This resulted in extreme edge cases where fuel and munition incomes were higher than expected. To resolve this, supply trucks will only add a set amount of resources to sectors.


A cargo truck setup within a sector now adds 3 fuel and 5 munitions per minute, rather than multiplying the sectors value by 2

Cargo truck cost from 200 to 300 manpower



Adjustments to Scatter Distance

The following units had their scatter distance refactored to better match their performance and design. Higher scatter values generally implies weapons are less accurate.


IS-2
• Scatter distance max from 7.5 to 2.86

Panzer IV
• Scatter distance max from 6 to 9.5

T70
• Scatter distance max from 1.84 to 1.7

T34-85
• Scatter distance max from 3.4 to 2.6

Tiger
• Scatter distance max from 6.8 to 4.3

Ostwind
• Scatter distance max from 1.98 to 2.15

Brummbar
• Scatter distance max from 4.55 to 1



HMG Suppression Modifiers

HMG teams no longer function efficiently while pinned. This discourages tactics such as moving a HMG team into a setup HMG team unless on the flank. Pinned HMG squads now have the following modifiers applied to their squad:


Weapon accuracy is now reduced by 75%

Weapons reload has been increased by 100%

Weapon cooldown has been increased by 100%

Weapon scatter has been increased by 320%

The Maxim HMG now properly has its movement reduced while suppressed



Correction from Patch on June 13


Stug target size set from 20 to 14

Riegel AT Mine recharge from 30s to 0s





Bug Fixes




Command tank now properly validates, this prevents the user from using the call in when they are near max pop.

Incendiary barrage duration now better matches its deployment time.
What do you think of the new maps and the balance changes? Tell us in the comments below.