We're gonna get the
Operation Charlie Fox
party started with an
Opening Ceremony All-Star 4v4 Show-Match!
You pick the players, and we'll invite them to wallop each other in a 4v4 Best-of-3 extravaganza on a brand new custom map. This first-of-its-kind event will take place on:
September 19th, 2015 at 15:00h GMT
That's:
08:00h PDT in Vancouver

11:00h EDT in New York

16:00h BST in London

17:00h CEST in Berlin

18:00h MSK in Moscow, and

01:00h (+1 day) AEST in Sydney
It will be broadcasted, live, on:
The Selection Process
The participants of this match will be selected by the fans! Each COH2.ORG user gets 10 votes, and the top 10 vote-getters will become our 2015 #OCF All-Stars. The top vote-getter will captain one side, and the 2nd-most vote-getter will captain the other side. Out of the pool of 8 remaining All-Stars, the Team Captains will pick their teams.
Team Captain #1 will get first pick, and then Team Captain #2 will get "second-and-two." They will then alternate picks until the pool is exhausted. Each team will have 5 players. In the 4v4 All-Star Match Best-of-3, Team Captains must ensure that
every All-Star player that shows up plays at least once!
The Nominees and Ballot
Your 2015
Operation Charlie Fox
All-Star Nominees are:
luvnest

Siberian

HelpingHans

VonIvan

RedxWings

Cruzz

Quentin

jesulin

BartonPL

ImperialDane

OMGPOP

Cpt.Molo

Romeo

CieZ

momo4sho

Aimstrong

CaptainSPrice

DevM

AmiPolizeiFunk

Sepha

Katitof

Twister

ihitto

iTzDusty

Lenny12346

E-zy

cataclaw

StephennJF

vietnam_giap13

VonKluge

Crazyman64335

LemonJuice
To cast your votes, go to the:
All-Star Match Map Reveal
The
2015 Operation Charlie Fox All-Star Match
will be played on a brand new custom map by our very own Master Mapmaker,
MonolithicBacon
. Playable in both 3v3 and 4v4 modes,
(6-8) Hill 400
is now available for download in the Steam Workshop (link after the screenies & vid).
!Hill 400 uses a rare, circular design as a method of driving all competitors towards each other and leaving very little room to hide. While not the largest map, Hill 400 can be broken down into three significant features:



The Hilltop - This major area in the middle of the map holds the only munitions points and a Victory Point. An array of dominant defensive positions are available; including bunkers, trenches, and tank-trap walls.


Northern Forest/Southern Forest - These corner areas consist of dense forests and buildings separated by roadways. Each has a fuel point which is connected by easily contestable cut-off points.


Encircling Road - This roadway runs around the entire map, surrounding the hill itself. Several territory points can be located on this roadway and most contribute towards the maps various cut-offs. Holding the roadway may prove difficult, particularly in defensive situations, but whoever controls it controls the flow of resources.
Tactical Map
Screenshots
Concrete remains at the top of the hill in the middle of the map. There will be blood!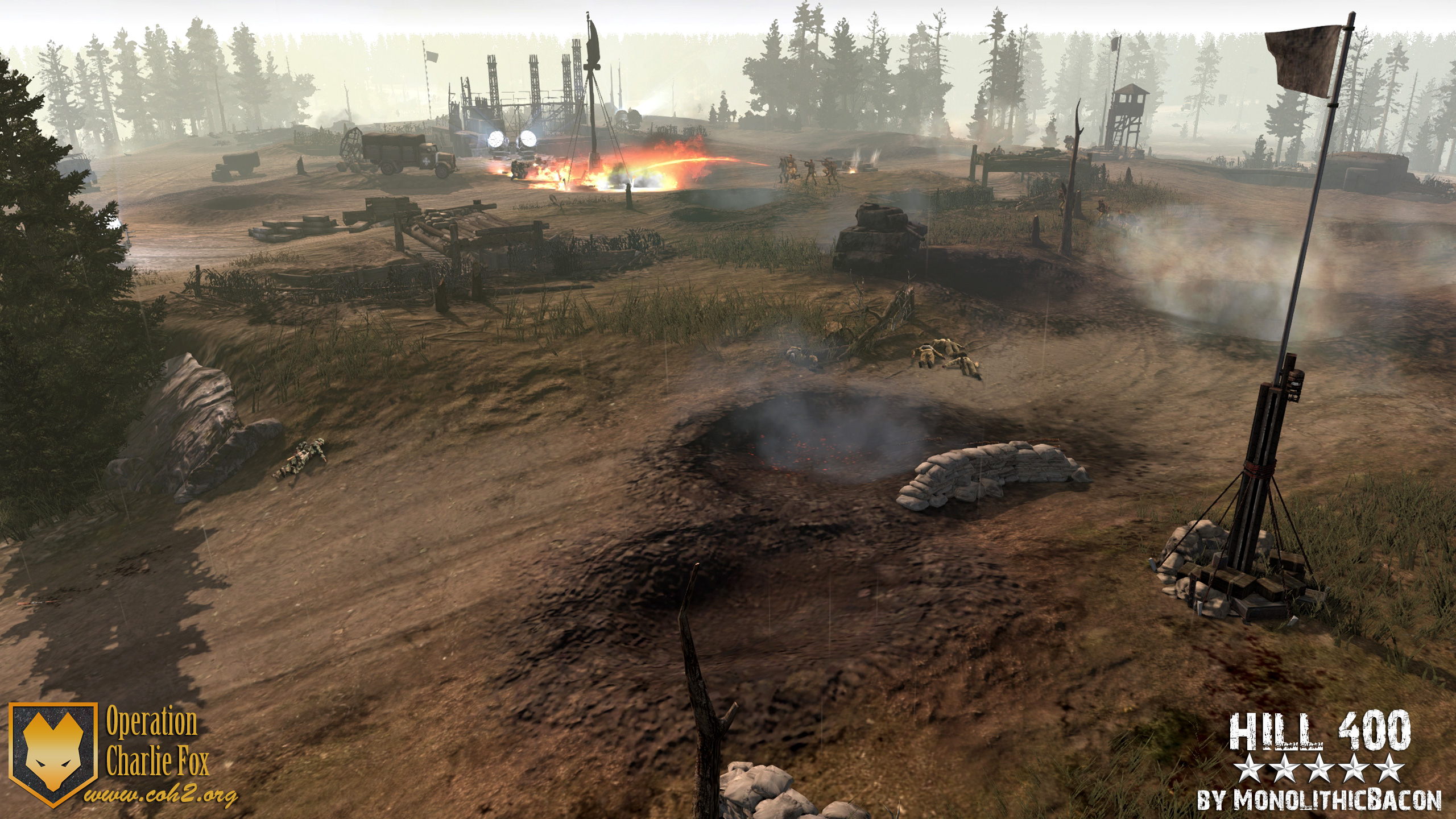 Ammo point in the foreground with the central Victory Point under fire in the background
Controlling the watchtowers and bunkers is the first step to controlling the hill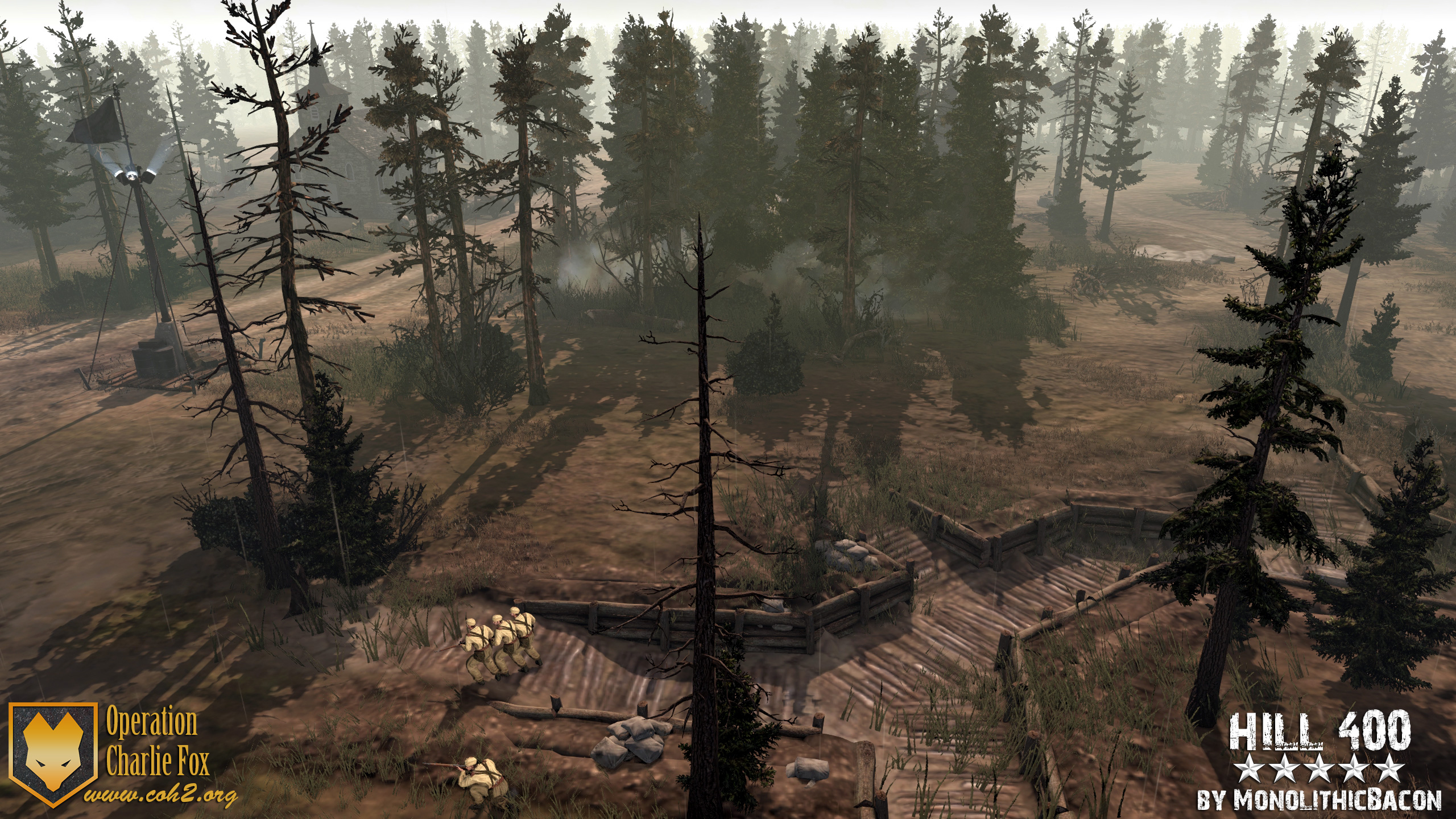 The northern Victory Point (left) and fuel point (right)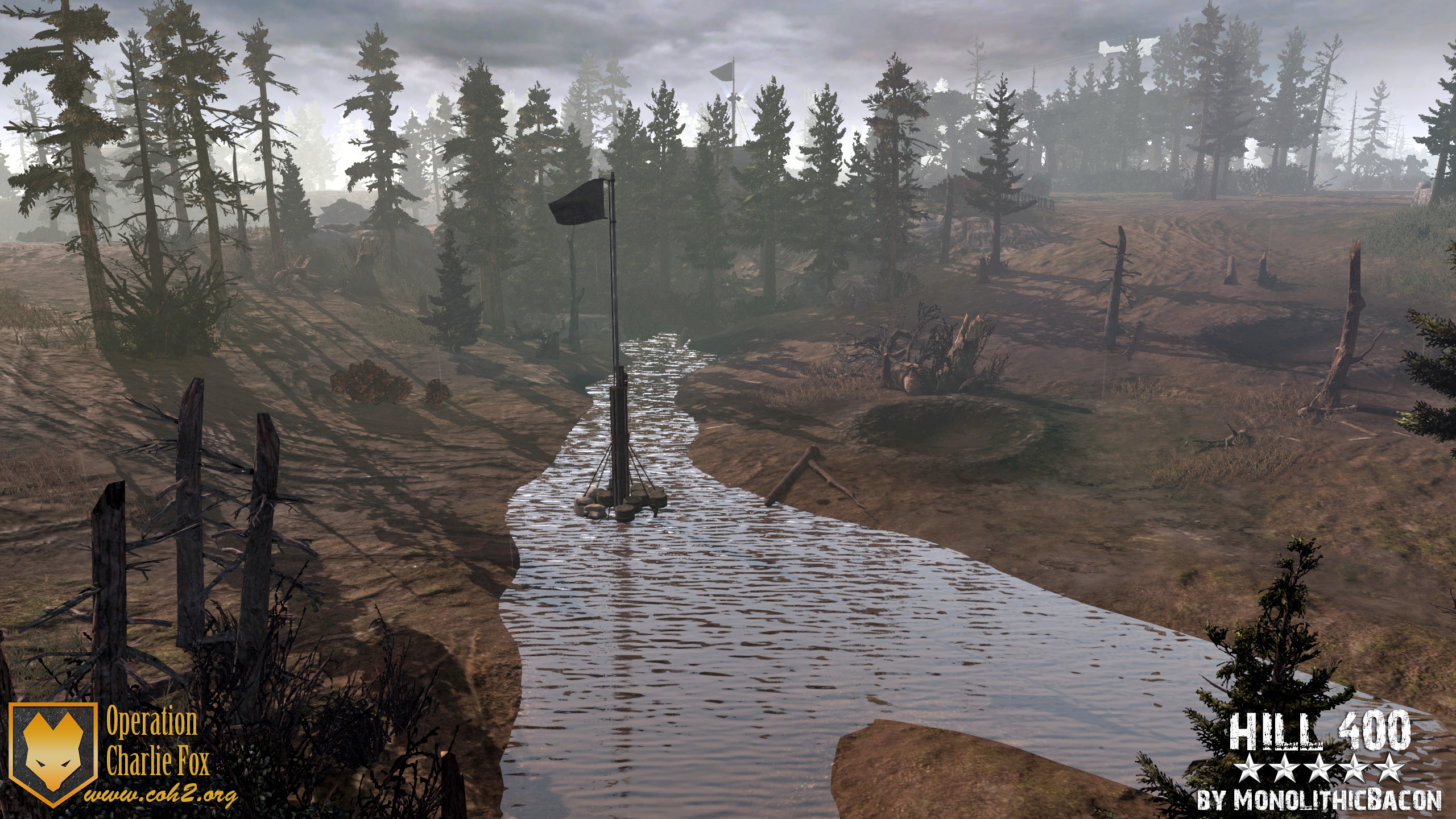 The southern fuel point (foreground) and Victory Point (beyond the trees)
Video Walkthrough

MonolithicBacon takes you on a tour of his new map, (6-8) Hill 400
Get the map!
Press the big green "Subscribe" button:
Are you hyped for Operation Charlie Fox? Let us know what you think of the Opening Ceremony
and the new custom map, Hill 400, in the comments below.