Company of Heroes is chaos. It's in the shrill cry of the katyusha rocket. It's in the voice of the tank commander as his vehicle is destroyed, It's in the flurry of clicks and keyboard as you're being attacked from three sides. Chaos is in the desperation of the last twenty VPs, of the desperate push where loss is defeat but winning is life.


It's Chaos Krieg — and Sturmtigers are only 8 CPs.
With 250 VPs, players are desperate. Killing a squad is worth more than holding a fuel point. A Panzer IV or Jagdpanzer will have to do even though a Panther is what you need. A Stuart will do a Sherman's job because you can't afford to wait. If you're down, you can take the L and try again. But with more games to win a match that's an extra game you've got to win back in your series.
Chaos is more than just the game. Chaos is, in this iteration of the Master League, the maps will be selected at random by either a Discord bot "praise Janne!" or a live action spinwheel "oh God no A_E!" - This will mean the players will have to adapt and think fast and act faster.
Who do you think will have what it takes to come out on top? Who can claim the most ML points and get a better seat in November's World Championships?
Sign up at
on discord.
See all rules pertaining to sign up there.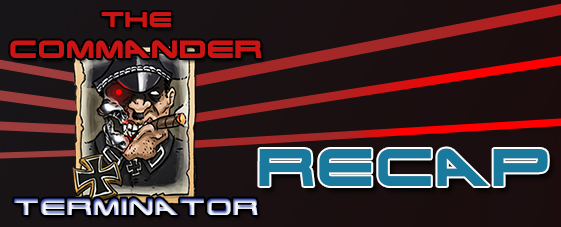 What a tournament! What a finals series! It's been a month since the CoH Master League's second event, the Commander Terminator, concluded. It was even more of an emotional rollercoaster than the first event, with major upsets on day one. If there's anything these first two ML events have shown us it's that there's always the potential for an upset. Every player is capable and there are no matches over before they've begun: every player can put up a good fight. If you were to compare the Master League Table between September 2020 and May 2020 you'd see big shifts. Luvnest's huge lead in ML points has shrunk considerably and lesser-known players are finding themselves thrust upwards by their performance.
About one third of the matches played went to the ace game and only two of the eight games played from the quarter finals and on (and the all-important third place match) were a shutout. With more success, the commander choices narrowed as the players pushed through as hard as they could. An extra game played in a match was one less commander in a higher stakes game, so a sloppy opening and the desperate pick of a strong commander or a loss altogether would have consequences down the line even as the four days of the tournament limited fatigue as a factor in performance.
All in all, it was another resounding success for the Master League. With Chaos Krieg coming next month, Relic's World Championships following in November, and the new 64-bit update, things are looking great in the world of Company of Heroes. Unfortunately for the Osttruppen, it appears that they'll be back to front-line duty in October for the absolutely mad 250 VP rush!
Links to Previous Tournaments
Couldn't catch the action? Want to relive the high-quality casts and games from the last tournament? Check out the links below. Of course, spoilers ahead! If you want the least amount of spoilers, start from the bottom up.
Official ML Casts
featuring A_E & friends
Third place game cast
with Greyshot! For his other work in the Terminator, check out
videos 20 and 22
in this playlist.
Tightrope's casts
featuring the 2-1 Orangepest vs USE-M246 match and a Quarter Final match!
Tomycoh casting
Seeking vs. Deathcore and
here following the winner of that series
.
As always, the CoH ML has an
official Korean stream!
If you're looking for good commentary, be sure to check out 101st Airborne Division's
Commander Terminator playlist!
About the Company of Heroes Master League
The Company of Heroes Master League is a community-driven project that showcases CoH's competitive scene. It features tournaments every two months and is broadcast live on Twitch. The prize pool is funded by members of the community chipping in small dollar amounts every month. By becoming a Patron, anyone can have the chance to vote on a variety of things that affect future tournaments and events via the exclusive Discord channel that brings together fans, players, and the organizers. In addition to the regular tournaments, the Master League is a living history of Company of Heroes. Detailed statistics of past tournaments are documented and results from the twenty most recent events are used to seed players in upcoming tournaments. This is to ensure that the Master League stays as competitive as possible while providing an archive of past achievements. The best part about this is that the data is free to access and available to the public! Check it out in the
Master League spreadsheet
. For more information about the CoH Master League, read
the announcement post
and, if you're interested in getting involved, visit the CoH Master League
Patreon page
.