I recently had the pleasure of making rank 1 on 4v4 USF random. It was probably one of the most gruelling experiences of my life, taking an insane amount of games with a terrible win/loss ratio. If you want a bitter laugh, have a look at the 4v4 top 10 ladders on the side of the page. Compare the win streaks of allied players vs axis. The usual refrain seems to be that this is because of balance in favour of the axis. While a game with 4 asymmetric teams as complicated as this one will always likely have balance issues, I don't believe that's the main problem (although I really do hate jagdtigers).
Since having the pleasure of discovering
CELO
I've found that I'm privy to information that most players apparently don't have: Everyone's rank. This is what the average 4v4 random matchup looks like, in my considerable experience: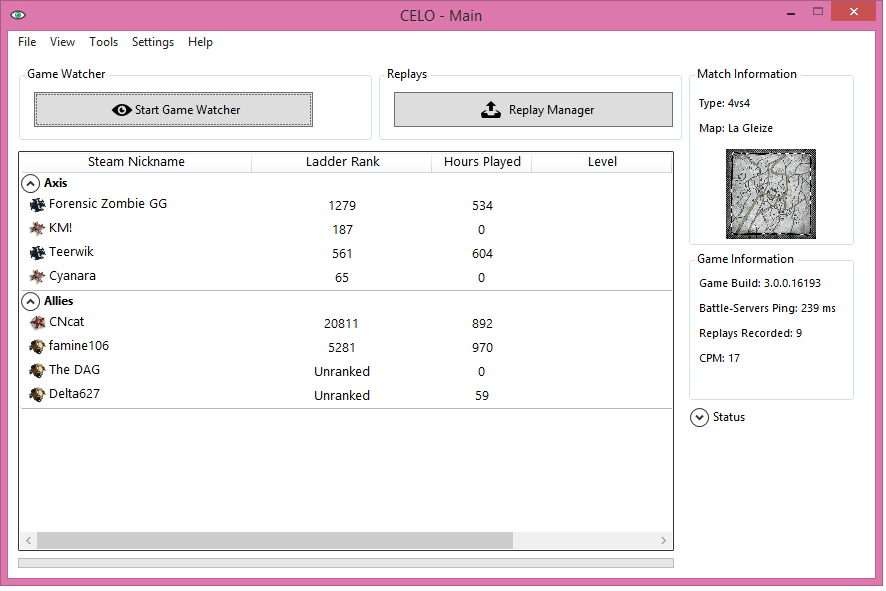 Simply put, decently ranked Allied players are almost unheard of. This means that when a good Allied player does try to have a match, their teammates tend to be so lowly ranked as to discourage the good player from further games as Allies. It's a bit of a prisoner's dilemma, in a way. The best way around it is to form a team, although this will likely get you a separate AT rank. Bottom line: The matchmaking system has little opportunity to make a fair game, and that probably won't change until a patch that makes people feel like Allies have been buffed. I've occasionally had a good run of teammates on some weekends (about the only reason I was able to rank up so much), but that's about it. The number of times my score at the end of the match had highest damage and kills and yet we still lost was just excruciating. When you have 4 opponents it's extremely difficult to singlehandedly turn a game around. I've also had teammates who couldn't beat the AIs when most of the other team dropped.
However, I enjoy playing as Allies nonetheless. They are a good exercise in micro. So, in an attempt to attract more decent Allied players back to 4v4 random, and help everyone else improve, here are my best tips for winning:
Bad Maps
Under the current patches teams *always* start on the same side of each map. Maps can be notoriously unbalanced in this game though. So, ensure you always veto as many of these maps as you can:
City 17
Reason:
Axis get an awesome building to camp the right fuel, and you don't. The left fuel is nice and open so that Axis can spam HMGs and kubels.
Faceoff at Rostov
Reason:
You have two narrow chokepoint routes to your fuel, at least one of which is red cover. Expect to get kubel-rushed and locked out. You also have to cross a river to get to anything. The Axis fuel is surrounded by excellent buildings and numerous wide entry points. This is probably the single least balanced 4v4 map and in desperate need of reworking. Or at least, you know, randomised starting sides again.
Good Maps:
La Gleize
Reason:
Buildings are your friend, especially against OKW. Rush those suckers. Also, easy fuel cut-offs. I can almost always capture the Axis fuel on the left, especially with a little teamwork. Plenty of flanks, and good chokepoints for mines. Also some open areas for your tanks.
Lienne Forest
Reason:
Great city on the left and highly flankable forest on the right. Very hard map for OKW to set up on.
Ambiguous Maps
Vielsam
Reason:
Still getting a feel for this new map, but it seems to favour OKW base camping at key points. Everything is miles away from everybody else's base and the minefield in the middle limits action in that area.
Steppes
Reason:
One of the few relatively balanced maps, its open nature is great for Allied tank swarms late game, but it can be hard to get to that point. The lack of cover is perfect for Axis HMGs and kubelwagons to lock everything down early, not to mention paks. Good luck holding any fuel. Only experienced teammates are likely to be able to micro squads and snipers adequately. Soviet players are probably best suited to this map with their early access to support weapons. USF players should use smoke grenades and tech up to light armour ASAP.
Ettelbruck Station
(Not currently a 4v4 automatch map)
Reason:
The lack of movement in the narrow corridors can make for a very difficult late game for non-heavy tanks. This is pretty much an artillery map since everyone is more or less forced to put a blob of support weapons in a small area. Get mortars ASAP to blow a hole in their defences and push through so that you're not bunched up when they get stukas. Soviet artillery also has a range advantage on this small map.
Lanzerath Ambush
Reason:
This is not a balanced map, but Allies can win at it. P47s are particularly effective on it. The catch is that the fuel points are not symmetrical. The Allied fuel point is near ammo and a VP, so it's constantly under threat. The Axis fuel point sits back in a quiet area. The middle VP also requires the Allies to pass through chokepoints and can be tricky to defend, although the barriers can suit indirect fire and forward retreat points. Open areas tend to favour Axis HMGs, so get Soviet players to go for support weapons early on.
General Allied tips:
Make sure *at least* one USF player goes airborne. When it gets to late game, those p42 anti-tank strafing runs are the difference between winning and being crushed under the treads of a battalion of 70-tonne heavy tanks. Plus, you can drop heavy weapons to desperate teammates. This also makes it less risky for other USF players to go with the early-advantage commanders that lack late-game power.


Win early and often. Even with p47s, you don't want the game to get to King Tigers and Jagdtigers if you can help it. By focusing on the early Allied infantry close-combat spam advantage you can often hold all 3 VPs for long enough to watch that last VP tick over just as a KT rolls in. Very satisfying. If not, you can at least force them to spend fuel on lighter tanks out of desperation.


Fuel first. Allies have so much to gain by starving the Axis of fuel, so go for both of them. Don't assume your teammates know that fuel is more important than anything else. Take charge and give them some firm (but polite) orders. On Steppes in particular, the top teammate will often try to camp the double ammo up top. They'll feel like they're helping as they sit there unopposed while your 3 remaining team members get pushed out of both fuel points. Educate them before they commit to doing so.


Non-wood buildings are your friend. OKW have pretty much nothing to get you out of them and Ostheer are limited to mortars unless they can spare the ammo on flamethrowers. A Soviet forward HQ in a city will also make your whole team nearly invincible in that area for the early game.


If you see an OKW halftrack setting up, let your teammates know immediately and focus fire on that sucker. They can't get that fuel back and it is oh-so-rewarding. Buys you a lot of time and map control as well. Do it enough times and you can probably expect a ragequit.

General all-round team play tips:
Diversify. Communicate with teammates of the same faction about what you tech you are going so that they can go a different one. Diverse arms are very difficult to fight because it's hard to decide what to attack first.


Look at the player list. You can see what commander your teammates have chosen and make your decision around that. Much easier than asking them to type it, especially given their generic names.


Make sure you have individual team colours turned on in options so you can easily tell different players apart.


Communicate. Let your team know if you're being attacked by multiple players. Effective teams will try to gang up against a smaller number of opponents and crush them quickly before returning to their own area. This can be much more effective than frontline stalemates.


I know this game can get people worked up (it's a sign of an engaging game really) but swearing at your teammates will not help. They'll simply take satisfaction in ignoring you or doing the opposite of what you say. Be constructive and friendly. They'll be more willing to learn, and you'll likely have a better teammate come next match.


If you have spare manpower, build fuel and ammo caches. Try to go for an even number of each. Both are useful in late game. Be wary of building caches before you have a useful number of troops though.

Anybody else have any suggestions? No faction balance complaints please.