CheatCommands Mod II




Posts: 4314 | Subs: 7
Thank you very much


Jump back to quoted post
29 Nov 2016, 05:09 AM
Cyanara
There appears to be a bug with the mod spawning the single player version of the Stug e, unless you use the commander ability to call it in.

It's a hilariously bad unit Hits maybe 1 in 50 shots.
I already got yelled at by Cruzz but thanks, I'm working on an update.
Edit: The update is live.

Jump back to quoted post
29 Nov 2016, 09:29 AM
Janne252


I already got yelled at by Cruzz
lol
1 user is browsing this thread: 1 guest
Ladders Top 10
#

Steam Alias

W

L

%

Streak
Replay highlight
VS
cblanco ★
보드카 중대
VonManteuffel
Heartless Jäger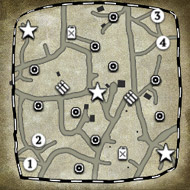 Einhoven Country

Honor it
2

Download
53
Board Info
243 users are online: 1 member and 242 guests
Kronosaur0s
30 posts in the last 24h
171 posts in the last week
1063 posts in the last month

Registered members:
38853
Welcome our newest member,
Thieryfer
Most online:
1221
users on 25 Feb 2020, 12:03 PM