"He who is not courageous enough to take risks will accomplish nothing in life."
― Muhammad Ali
Alienware, Relic Entertainment, SEGA and COH2.ORG present...
Sunday Night Fights S05E04: Contender Bout #2


CA

OMGPOP!

CA

vs.

US

VonIvan

RU

Best-of-5
November 24th, 2013, at 7pm GMT
Fightcard by Spezzy * Click for fullsize
Fighting for the stars and stripes with his left hand and for Mother Russia with his right, VonIvan cannot be contained! With three #1 spots on the automatch ladder and coming off an unbelievable 75 game winning streak, VonIvan is on fire. The Menace from Michigan is looking to wallop OMGPOP! all the way back to Saskatoon in his SNF debut!
There's hardly a top COH2 player in the world who hasn't had his nose broken by Marcus "OMGPOP!" Tan. Hailing from Saskatchewan, Canada, OMGPOP! has already provided some of the most thrilling, high-quality games of
Sunday Night Fights Season 5
. He took down xHoLyHammerx and BartonPL last week, and now he's out to give the same treatment to VonIvan.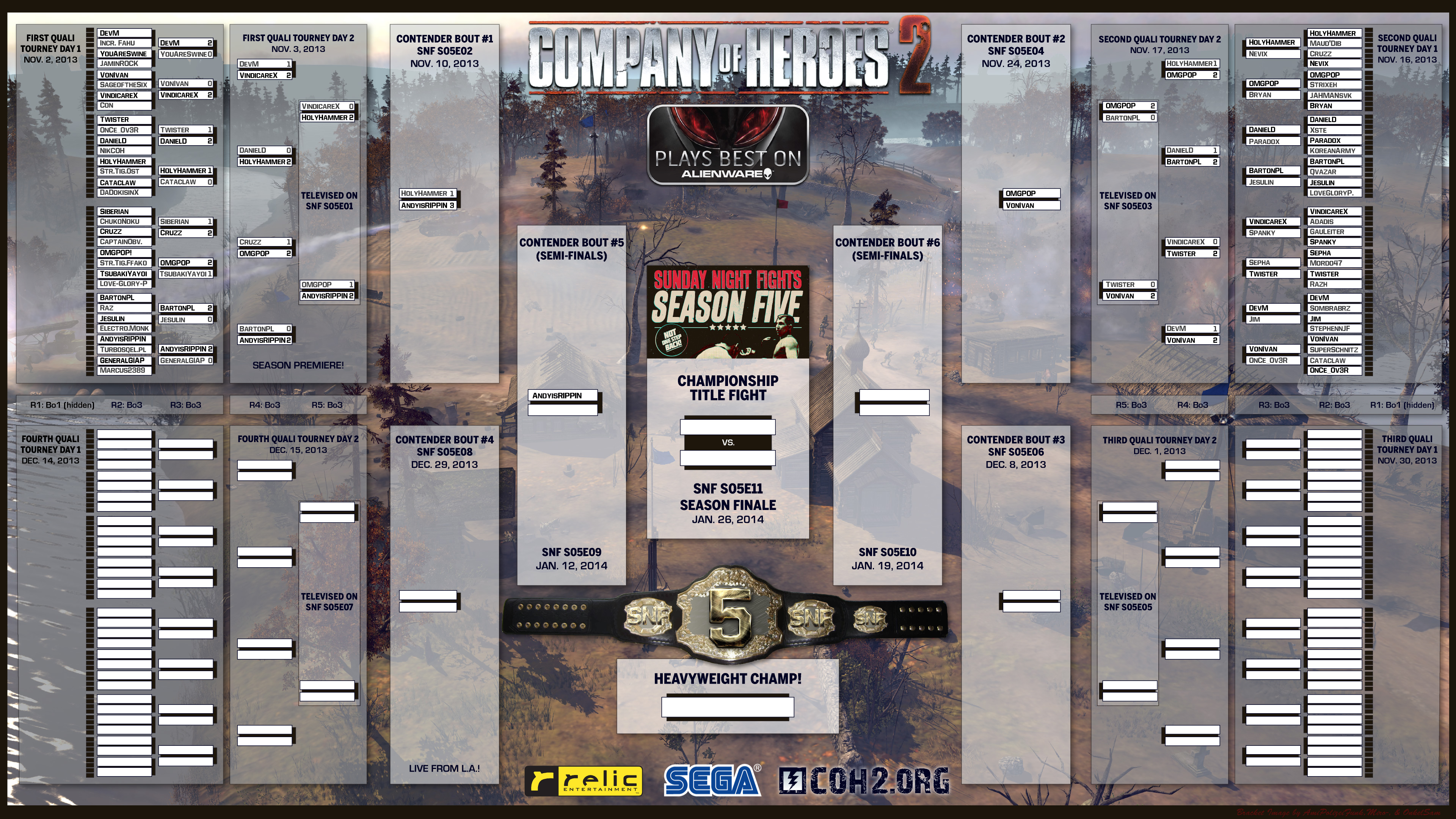 Bracket image by AmiPolizeiFunk * click for fullsize
It's that time again, fight fans! The stakes are high and reputations are on the line as VonIvan and OMGPOP! head back into the ring to determine which man will advance to the semi-finals and which will be wheeled away on a gurney. Join
Marcus2389
and the SNF crew this Sunday night on the
SNF Twitch.tv channel
for what is sure to be the fight of the year!
Prizes for Twitch.tv Viewers
As if watching the best players in the world pound each other to pieces wasn't enough,
Sunday Night Fights
is pleased to offer the following prizes, courtesy of Relic Entertainment:
Soviet Counter Attack Commander x 1

Soviet Urban Defense Commander x 1

German Ostruppen Commander x 1

German Joint Operations Doctrine Commander x 1

German Lightning War Doctrine Commander x 1

German Spearhead Doctrine x 1

German Storm Doctrine x 1
...and the grand prize...

To make yourself eligible to win, go to the
SundayNightFights
channel on Twitch.TV, and click that juicy "Follow" button. Tune in on Sunday night to see if you are one of the lucky winners and to claim your prize!
Sign-ups for the Third Quali Tourney are now open!
Make sure to sign-up and secure your spot for the #SNF5 Third Quali Tourney, which will take place on Saturday November 30th and Sunday December 1st. Post your Steam Alias and Steam ID# in the
SNF5 Third Quali Sign-Up Thread
before Friday, November 29th, at midnight GMT. Get your name on the list early to guarantee a spot!
Sunday Night Fights S05E04: Contender Bout #2


CA

OMGPOP!

CA

vs.

US

VonIvan

RU

Best-of-5
November 24th, 2013, at 7pm GMT