Introduction
Much of the discussion on the forums is led by players with considerable game time who have either bought or unlocked most if not all of the Commanders available. However, it cannot be assumed that newer players will have access to such a breadth of options, and can further give the impression that the standard commanders are not viable.

Whilst more commanders does give you more options, you can still only employ 3 commanders in a loadout to be available in a given match and for both factions the Common Commanders available to a starting player give some very potent and useful options. Further they are structured in such a way as to give starting players an understanding and familiarity with the basic Ostheer faction and units, one that they can then build on with Warspoils unlocks and guide any DLC purchases.

Accordingly what we have prepared here is a list of the 6 common commanders available to the Ostheer without DLC or warspoils unlock.

This guide is written according to the state of the game Febuary 2015, and written from the perspective of a large team game player (3v3 and 4v4) with a target audience of newer and less experienced players.
The six Common Commanders
In order to save space, and because there is some overlap, the descriptions of each ability will follow after the Commanders themselves
Blitzkrieg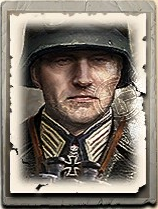 2CP Panzer Tactician
In four other commanders

4CP Tactical Movement
In four other commanders

4CP Reconnaissance Overflight
In five other commanders

8CP Command Tank
In four other commanders
12CP Stuka Close Air Aupport
In two other commanders
Festung Armour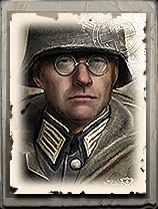 2CP Panzer Tactician
In four other commanders

5CP Hull down
In two other commanders
8CP Command Tank
In four other commanders
8CP PAK 43 Emplacement
In two other commanders
12CP Railway Artillery Support
In one other commander
Festung Support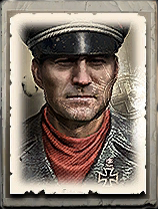 2CP SdKfz 250/7 Mortar Half-Track
In one other commander
4CP Smoke Bombs
In one other commander
6CP Relief Infantry
In two other commanders

8CP leFH Artillery
In 3 other commanders
12CP Sector Artillery
In one other commander

Jaeger Armour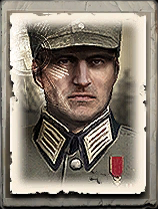 2CP Halftrack Riegel 43 Anti-Tank Mine
In one other commander

4CP Reconnaissance Overflight
In five other commanders

5CP Spotting Scope
In one other commander

12CP Stuka Bombing Strike
In three other commanders
12CP Elefant Tank Destroyer
In one other commander

Infantry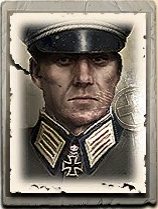 1CP Artillery Field Officer
In three other commanders
4CP Tactical Movement
In four other commanders

6CP Relief Infantry
In two other commanders

8CP Light Artillery Barrage
In 3 other commanders
10CP Fragmentation Bomb
In two other commanders

Mechanised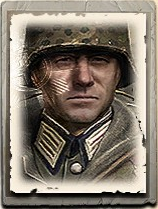 3CP Mechanised Grenadier Group
Commander Specific

4CP Smoke Bombs
In one other commander
5CP Spotting Scope
In one other commander

8CP Command Tank
In four other commanders
8CP leFH Artillery
In 3 other commanders
0-2CP
1CP Artillery Field Officer (AFO)
An officer and 3 bodyguards with supporting abilities. For some reason he is also especially deadly with his pistol.
Abilities:
May drop Smoke
30 MUN
Concentrated Fire:
25 MUN
, 20 sec
Nearby infantry fire faster and more accurately
Coordinated Barrage
80 MUN
All your indirect fire assets in range launch a barrage at the target area regardless of cooldown
2CP Panzer Tactician

30

All your armour units are equipped with smoke dispensers. Typically this is used to mask a vehicle that is retreating, often damaged. It does not totally prevent incoming fire as a human player may manually target using attack ground
2CP Halftrack Riegel 43 Anti-Tank Mine

50

This can only be laid by a 251 halftrack, it causes heavy damage and will often immobilise the affected vehicle.
2CP SdKfz 250/7 Mortar Half-Track (MHT)
This is an armoured half-track containing a standard 81mm mortar. A very useful piece of equipment for winning mortar battles as it can take damage without bleeding manpower whilst possessing potent offensive options.
In addition to normal fire it may also lay smoke (
O MUN
) and drop an incendiary round (
45 MUN
). The incendiary round is useful at area denial, dealing with dense clumps of team weapons and destroying buildings – however it generally takes at least two rounds to set one on fire.
3-4 CP
3CP Mechanised Grenadier Group (MGG)
Provides you:
Grenadiers with an LMG in a 250 halftrack
4CP Reconnaissance Overflight

80

Friendly aircraft will loiter in the area and give line of sight for 60 seconds. It may however be shot down by enemy AA
4CP Smoke Bombs
40

A plane drops a smoke screen. Mostly this can be useful to screen enemy positions so you can get close to launch an attack - or as a decoy. It is possible to use it defensively to enable damaged units to retreat, however it is delivered by aircraft so there is flight time involved and it is not instantaneous.
4CP Tactical Movement

40

Infantry, MGs and Mortars move faster for 20 seconds
5-6CP
5CP Hull down
Pioneers, Grenadiers and PGrens may build sandbags around one of your tanks. This gives them offensive and defensive buffs but makes them immobile.
5CP Spotting Scope

30

Allows equipped vehicle to see further when stationary
6CP Relief Infantry

90

There already is a
guide that covers this
, but effectively it is a way to get units for manpower.
For 120 seconds infantry losses are replaced by Ostruppen squads.
4 losses grants one Ostruppen squad to a maximum of 3 per use.
8-9CP
8CP Command Tank
A Panzer IV Command Tank. This has a less potent main gun than the standard P-IV and you can only have one at a time. However it is useful against infantry, you can obtain it without teching and most importantly it provides a defensive bonus for friendly units in the same sector. The affected sector will be highlighted on the mini-map.
8CP leFH Artillery
Fixed artillery piece, not a common part of the meta game but sometimes useful.
8CP Light Artillery Barrage
120

Drops light artillery shells in a small area for a short period of time. This is usually used on AT Guns to force them to pack up and move or be de-crewed and damaged.
8CP PAK 43 Emplacement
Heavy and fixed 88mm anti-tank gun. It may rotate but not change position. Can shoot through blocking terrain.
10-12CP
10CP Fragmentation Bomb

180

Drops light bombs in a long rectangle pattern, effective against infantry and other light targets
12CP Elefant Tank Destroyer
This is a heavily armoured and not especially mobile unit designed to fight tanks, however unlike certain other factions' tank destroyers (SU-85 and M-36) it has a frontal MG so can do some reliable damage to infantry, and it lacks the Jagdtiger's vulnerability to being stunned whilst possessing comparable armour. It also has a "focus forward" ability to give it greater forward vision at the expense of all-round vision.
This is not a vehicle to spearhead an assault, it is one you keep in the rear of your forces and use to fight tanks - as it is pretty much useless at anything else. It is also something you need to screen and protect with lighter AT assets to prevent it being frontally rushed or flanked.
However used properly in its intended role it is one of the most fearsome things on the battlefield and a total beast to play against.
12CP Railway Artillery Support
200

This drops 3
very
large artillery shells in sequence. Excellent for breaking up defences by either direct destruction or forcing movement, also at destroying large fixed targets and area denial. The footprint of this attack is almost exactly the same as a US base area. This may or may not be a coincidence, but a few of these will wreck a US base.
12CP Sector Artillery

200

Designate a friendly sector on the map, for 45 seconds enemy units entering that sector are attacked by artillery. Effectively a defensive ability to neutralise pushes or prevent infantry capping a sector
12CP Stuka Bombing Strike
160

Drops a single bomb at the targeted location. Unlike most other such attacks there is no targeting smoke or flares, but there is a distinctive
sound
. May neutralise captured sectors.
12 Stuka Close Air Support
200

Stuka will patrol the designated area attacking targets with 37mm cannons. Useful against all kinds of targets including armour. Duration 75 seconds including flight time
Starting Commander Selection
Ostheer has a strong core, and further one with a more or less linear tech structure. The Common Commanders should enable you to get a good grasp of their core units and standard gameplay. These commanders have none of the abilities that change basic gameplay (such as
Fuel to Munitions
or
Troop Training
), nor do they have call in units that allow you to mostly or totally rely on doctrinal units rather than teching. Such call in units as they do have are either limited to one at a time (Artillery Field Officer, Command Tank) or are not generally something that you want more than one or two of anyway (Elefants, Mechanised Gren Groups)
Whilst the expense and accessibility of Ostheer T4 and Panthers is contentious for competitive 1v1 games this should not be taken as in any typical of the experience of the casual or starting level player.
You may pick only 3 commanders for your loadout, you will generally want a diverse choice that can be useful in many situations.
Blitzkrieg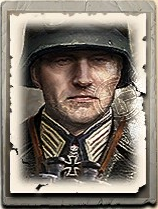 This is a solid choice. Like vanilla it's not exciting, but the classics are classics for a reason. It has a Recon plane to let you (and your teammates) see what is going on so you can avoid (or cause...) trouble. If vehicles get in trouble you can pop smoke and hopefully escape to repair and come back. The Command Tank will also boost the durability of your units. These 3 abilities make it a good choice for keeping your armour alive, something which is absolutely crucial.
The Stuka strafe gives a handy punch for dealing with all kinds of targets and tactical movement can occasionally be handy.
The only real reason for caution with this doctrine is you may come to rely overly on it's defensive abilities and suffer losses when you play with other commanders. Without a Command Tank some situations will be more dangerous for you, and you may try to pop smoke to get out of a tight spot only to discover you don't have it.
Festung Armour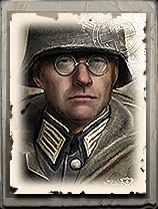 This will tend to lead you down a less mobile path, as two of it's abilities are essentially static. However it will be helpful on narrow maps with choke points you can lock down. Again you have Panzer Tactician to help preserve your armour and the Command Tank for general defensive buff. Railway Artillery is expensive but useful for breaking up defences - either by forcing the enemy to relocate or by the more traditional method of smashing him to bits. It can also be dropped behind you as you retreat to discourage pursuit.
The PAK-43 is something you should rarely need - because usually you need it when you are fighting tanks but don't have enough fuel for your own - but when you do you will be glad you have it. However as a static installation you need to be careful where you put it and be very careful about letting it get captured and turned on you. However it doesn't need line of sight to be effective, so as long as something else can spot for it.
Behind terrain or buildings and backed up with units or bunkers to keep it from being mobbed it can be very effective, if you are fighting enemy units in front of it with other units opposing players will often be too busy to notice it firing and the only clue they have it is there will be their tanks exploding much faster than they otherwise would.
Hulldown can be useful on some vehicles, but generally your armour is mobile and best used on the move. Staying static is an invitation for them to be bombed/strafed/hit by artillery. However Ostwinds become very good at shooting down planes when set up, and the range boost on other armour can be handy for fighting things such as a the M-36 Jacksons.
Festung Support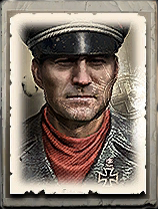 You won't always want a Mortar Half Track, but on the occasions you do you really will. This is the only way to get one in Common. Relief Infantry is not something I use a lot, nor smoke bombs- though both have their uses. The howitzer will be occasional useful, especially in the sort of indirect fire battles that will often prompt you to get an MHT in the first place. Sector Artillery is niche, but far from useless as the video demonstrates.
Jaeger Armour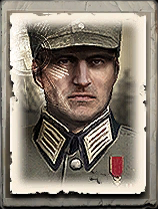 This has several useful abilities for fighting armour - and almost all games that go long enough come down to that. Elefants can pick off units from long range, especially if using focus sight and even better with Spotting Scopes. In addition it has the Riegel 43 that can cripple enemy vehicles and leave them easy meat for the Elefant and other AT.
Finally, and perhaps most importantly in the current meta, it has Recon & Bomb Strike together which give it the ability to destroy Soviet on-map artillery such as the ML-20 and B4. The B4 is a popular choice to use against your OKW teammates' trucks and heavy armour but they have few ways of countering it themselves and are reliant upon Ostheer players to do so.
Even outside that application Reconnaissance is always handy and the bomb-strike valuable against point targets - such as his headquarters after he just retreated there. Savvy opponents will often move armour under repair once they see a recon plane in the area without you even needing to launch a bomb strike they would probably dodge anyway. As such the threat alone helps diminish their field presence.
Infantry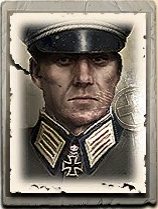 This will be very munitions intensive, as every ability here will use them including the AFO abilities. In addition heavy infantry play will use munitions as well for MG-42s, Grenades and Schrecks. As most team battles focus over fuel in preference to munitions you may find issues with using this commander to the full or being sparing with what you do. That said the AFO complements mortar heavy openings quite nicely and can contribute to you winning early indirect fire battles.
However there is very little here however that helps armour, though both the Light Artillery Barrage and Fragmentation bomb are handy against Paks, and there is very little here apart from the AFO abilities to help you win the battle against US infantry that are often hard for Ostheer.
Mechanised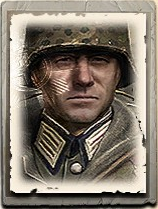 The Spotting Scopes and Artillery synergise well together, allowing you to see potential bombardment targets passively and without recon. However as this is dependent upon true-sight to gain LOS it will be much affected by the map. The Command Tank is always useful for its AI power and defensive aura.
The Smoke Bombs are one of the more unusual features; as they are delivered by aeroplane they will not arrive immediately. As such whilst they can be used reactively to screen damaged tanks and allow them to escape this will not happen as instantly as the smoke release of Panzer Tactician. However they can also be used offensively to block line of sight for enemy mgs to allow infantry to get close without suppression and to screen tanks from enemy AT Guns before an attack. You can also drop them directly onto enemy weapons to shut them down entirely or force them relocate or manually attack ground. Finally, they are relatively cheap so can be used as a diversion to make an enemy think you will attack through it whilst you actually attack from a different direction.
The Mechanised Grenadier Group is something of an odd-beast. For
500
/
30
/
11
you buy a Grenadier Squad with an MG-42 in an unarmed and moderately armoured halftrack. However a base gren squad is
240
MP, the MG-42 is
60
MUN, so really the trade is:
260
/
30
/
4
to save
60
MUN and get the halftrack. This, as I have previously said in relation to the similar
Mechanised Assault Group
, does not seem like a good deal.
What you can do with it:
Keep them in the halftrack and use them to ignore suppression when closing on Machine Guns or to give them some armour against other infantry.

You can also pop the Grens out and put something else inside. Options include: PanzerGrenadiers and Pioneers.
PGrens may be better close up than Grens, and with Schrecks can have some anti-tank utility.
Pioneers with a Flamethrower make a very, very poor substitute for a proper flame halftrack.

Mobile flank capping.

Late game "I need to get to this point and cap it quickly and/or Infantry on foot will die".

Use it empty as an expendable scout/decoy/minesweeper.
Very rarely is this unit worth it, however.
If you wish to be really gonzo you could try going Pioneer spam into T2, skipping T1, using this to get Grenadiers and the free MG42 would be worth it because you spent lots of munitions on putting flamethrowers on your pios. I' m not even going to attempt to make that work but more power to anyone who manages it.
Summary
A lot depends on your own style and preference, and I would in any case advise experimenting with all of them. However Commander Selection is not just about finding ones you like, it's about having available a suite of abilities to cover any situation you might have. Accordingly, whilst I believe Blitzkrieg is the best of these Commanders, I would suggest that Jaeger Armour is probably the most important to have available for the Recon+Bomb Strike to counter on-map artillery.

Festung Support gives you the mortar half-track which is a handy tool for dealing with Forward Head Quarters in particular and units in buildings in general. If you are confident with mortar play and want more general utility then there is Infantry which has the AFO to deal with the same situations.

Festung Armour and Mechanised are more niche

So:

1st Pick: Jaeger Armour

2nd Pick: Festung Support or maybe Infantry

3rd Pick: As you wish, but I believe Blitzkrieg is the best Common Commander and one that remains in my loadout.
Bulletins
I believe you will start with access to 4 bulletins and can chose 3. Further ones will drop at random through warspoils.


Conscript and Gren 3% Accuracy

MG42 and Maxim 2% Accuracy

PAK40 and Zis 2% Penetration

T34/76 and Panzer IV 3% Rotation

Whilst bulletins don't give that much of a benefit, they can be useful. Generally I consider it a good idea to use bulletins for units you will build early and use throughout the game as you will then get maximum benefit, this really means core infantry. However here you do not have much choice, so it is more of an issue to decide which one not to use. As such I think you should not use the PIV Rotation, in many team games you will not build PIVs anyway going straight to T4 and getting Panthers whilst Grenadiers, MG42s and Pak-40s are units you will build in almost every game and get good use from.

Once you get more bulletins you can decide further what you want to do, based upon what you get and what units you like using
Conclusion
We hope you find this Guide helpful, if it proves popular we may do more on the same theme. We'd like to thank the contributors in the
WW2 Photo Thread
and those personalities whose YouTube footage we have highlighted.
Changelog
24/3/15
bananajuice3
points out that 500-240 = 260 not 360.
Thank you
23/6/15 Probably not going to affected that much by the new patch, though will start looking better with limitation on the Heavy tanks and buffs to OH core Stugs.
Stugs will also benefit from Spotting Scopes now.
I shall keep this under review