WW2 Scale Models and Drawings

Jump back to quoted post
10 Oct 2015, 17:35 PM
atnas666
These are awesome! Where can one get these
there is lots of online shops in your country , im sure of it , just research a little .




Posts: 121

Jump back to quoted post
10 Oct 2015, 17:35 PM
atnas666
These are awesome! Where can one get these
You're aware these dioramas presented here are by some of the best modellers on the planet e.g. Brett Green, Mig Jimenez, and that they are made from a kits that
you
have to assemble, paint and weather aren't you?
The diorama bases, scenery and other than basic crew figures usually don't come with the kits unless a special edition release. e.g. Cyber-Hobby Orange Box or Dragon Wittmann Tiger. Most of those you see here also feature after market expensive photo etch by the bucketload, and feature expensive replacement links.
Most better Dragon kits come with PE and Magic-tracks, although some are coming with DS links now. These are the later Smart Kits featuring lesser part count and slide moulded bits. Dragon are reknown for mega part count and complex builds.
Most of those extra figures like those in that superb Elefant diorama are aftermarket.
If you haven't done this kind of thing before, I suggest you keep it simple. Pick a subject you like is all important to maintain enthusiasm during the build when it wanes, especially if a long and difficult build.
Tamiya kits go together well, are easy builds and their early kits are cheap if inaccurate. But they do look like what they are supposed to represent to the less discerning eye. Good to start with and build skills on. However they come with continuous soft rubber tracks.
The Cyber-Hobby Orange Boxes are great value and a great starting point. They are reboxed early Dragon releases which are older toolings and so less accurate and detailed in comparison with their current kits, are still detailed and reasonably accurate generally. They also have a bonus of coming with bonus figure set making them especially good value and usually include Magic-tracks too with basic PE. I'd either go there, something Academy or Tamiya to kick off with. The Academy Stuart and Honey are particularly fine and very good value for money out of the box as is their Hetzer. Tamiya's Marder IIIM and Stug III Ausf B ae particularly fine and excellent value for money. Their new Panther is very very nice, but is expensive as a Dragon kit and doesn't come with all the PE or fancy aftermarket bits in the box. Zvezda have some good originals and Dragon reboxes at the right price.


14


Posts: 10629 | Subs: 9
Moved from the Library to the Art Studio
1 user is browsing this thread: 1 guest
Ladders Top 10
#

Steam Alias

W

L

%

Streak
Replay highlight
VS
cblanco ★
보드카 중대
VonManteuffel
Heartless Jäger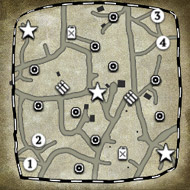 Einhoven Country

Honor it
2

Download
32
Board Info
235 users are online: 235 guests

31 posts in the last 24h
235 posts in the last week
1228 posts in the last month

Registered members:
38629
Welcome our newest member,
Cruickshank
Most online:
1221
users on 25 Feb 2020, 12:03 PM