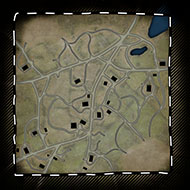 This is a love/hate relationship with me for this map. I've had both great and horrendous games on it, but for some reason I can never find myself having the desire to veto it even if I have more bad games. My treacherous games on this map may be due to a poor teammate or myself just playing irrationally. Regardless I've found myself enjoying this map.
The great games I do end up having on this map end up being freakishly action packed with tons of arcing mortars to fast paced tank rushes where in the end both sides end the battle in a draw only to both have to build up again. Other games I've found myself constantly on the defensive holding out just barely long enough to build enough forces to take the final VP and turn the tide.
This map has a sense of beauty with its combined fields ending at urban center, which tends to be the most concentrated part of the map. The problematic structure of the map I have become convinced about is the size. I find it rather large for 2v2 and with an overwhelming US infantry start you are forced to be defense at the very start only attacking a small section of the map together. Most likely a fuel point in the south or north and then slowly moving to the middle. Don't take this paragraph as a complaint or a cry for change on this map. I find everything on it to be quite nice and only speaking through difficulties I've experienced when playing Vaux Farmlands.
To be honest when this map gets chosen I'm both nervous and excited to play it. Nervous because, for me at-least, capping will be a bit of a struggle in the beginning. Excited because, I love the way the fighting erupts in the center town in and around buildings and all those walls. Jumping over walls, dashing for the vp, quickly garrisoning that building only to exit from incoming mortars. I honestly play harder not even to win on it anymore, but just to have a epic battle on the map.
I find this map to be layed out very well and honestly recommend relic, in my opinion, and other community members to look at Vaux Farmlands as an example of a good competitive map layout for new automatch maps in the future to come.
Happy gaming and hope you enjoy this map as much as I do.