Katyusha spamming!
by Aladdin
22nd September 2014, 07:20 AM
Oka River Winter (6)
A very intense 3v3 game! many Katyushas in one game! great use of combined forces. lots of flanking. armies getting destroyed by zeroing arty. Katyusha spams giving Germans a hard time. Devastating damages by sturmtiger. Full health sherman gets destroyed by a sturmtiger's single shoot! A very fun game.
1 user is browsing this thread: 1 guest
Ladders Top 10
#

Steam Alias

W

L

%

Streak
Replay highlight
VS
cblanco ★
보드카 중대
VonManteuffel
Heartless Jäger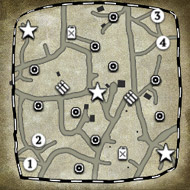 Einhoven Country

Honor it
5

Download
437
Board Info
7 posts in the last 24h
31 posts in the last week
234 posts in the last month

Registered members:
42240
Welcome our newest member,
danielwilson07
Most online:
1221
users on 25 Feb 2020, 12:03 PM