Oberkommando West vs Soviets



Posts: 3
Hello, always when i'm playing OKW and i fight against Soviet or UKF i lose the match. How i can win with the penals and M3 scout car and how I can win against Brencarrier and Infantry sections




Posts: 1190
KEK.

Try 4 pfussies to mg to leig to rak to ober to p4j to kongigstigger
Fusies certainly help if you struggle against light vehicles since you get early snare and bigger snare range. With Fusies you just have to realize that you'll get bullied early on before you get G43 upgrades - so you want to tech early and prioritize munitions into upgrades. (Mines are okay if there is a map choke point where you think you can bait M3/Bren)

You also have to play a tighter early game Fusies or not - don't send off lone squads to cap because you risk Flamer car wipes and bad engagements in general. This doesn't mean blob but always have units supporting each other and don't retreat late. Sturm pioneers are also very good at damaging Bren Carrier and M3 - use them to damage light vehicles and force down time for repairs.

After a certain time OKW late game kicks in and everything gets easier.
1 user is browsing this thread: 1 guest
Livestreams
| | | | | | |
| --- | --- | --- | --- | --- | --- |
| | | | | | 154 |
| | | | | | 66 |
| | | | | | 43 |
| | | | | | 9 |
| | | | | | 7 |
| | | | | | 6 |
| | | | | | 352 |
| | | | | | 239 |
| | | | | | 41 |
| | | | | | 3 |
Ladders Top 10
#

Steam Alias

W

L

%

Streak
Replay highlight
VS
cblanco ★
보드카 중대
VonManteuffel
Heartless Jäger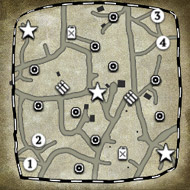 Einhoven Country

Honor it
2

Download
57
Board Info
252 users are online: 1 member and 251 guests
FLS_FalcoN
22 posts in the last 24h
176 posts in the last week
1165 posts in the last month

Registered members:
38919
Welcome our newest member,
Sulzbach40184
Most online:
1221
users on 25 Feb 2020, 12:03 PM